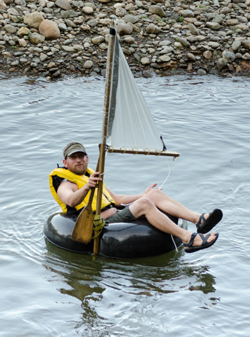 Friends of the Mad River is hosting the second annual Rock the River event at American Flatbread in Waitsfield on Sunday, August 26, from 3 to 9 p.m. The benefit will feature a lineup of homegrown music with local musician Colleen Mari opening followed by Tim Holter and the Mad River Mini Stars. Burlington songstress Kat Wright and her Indomitable Soul Band will wrap up the event. Wright was named in the 2012 Daysies Best Up and Coming Performer category by Seven Days.
Families are also a focus of the event, with face painting, fishing and other kids activities. Adventurous souls are encouraged to build and sail a homemade craft down the MadRiver in the Junky Boat Race, which was a hilarious highlight at last year's event.
Tickets for Rock the River include flatbread dinner, ice cream and entry into the raffle. Raffle prizes include a SugarbushMount EllenSeasonPass, MadRiverGlenSeasonPass and more. The event is co-sponsored by Sugarbush, Mad River Glen and TD Bank.
Proceeds from the event benefit the Friends of the Mad River (FMR), a community-based watershed conservation and restoration organization. Friends of the MadRiver has been at work since 1990 and has been busy since Tropical Storm Irene battered the MadRiverValley. This spring, FMR planted more than 2,000 trees and has been working with landowners and local officials on other flood resiliency initiatives such as stormwater mitigation, flood preparation education, corridor conservation and planning.
More information at www.FriendsoftheMadRiver.org.
{loadnavigation}