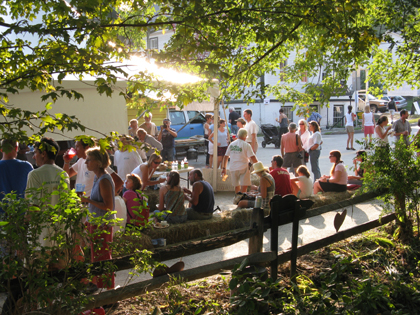 On September 8, from 3 to 10 p.m., all are invited to converge on Bridge Street in Waitsfield for a block party to celebrate community resilience, post-Irene. Bridge Street, home of Vermont's oldest still-in-use covered bridge, will be closed to traffic to allow several local bands, community organizations and food vendors to create a festive event where everyone is welcome.
"The community in the MadRiver watershed has done an amazing job of mobilizing volunteers and donations to recover from Irene. It'll be great to celebrate together on Bridge Street," said Asah Rowles, board chair of Mad River Flood Recovery. "But we also recognize the need to increase self-reliance and make our voices heard on global issues that impact everyone, and we still have a lot of work to do."
The event will feature local food and local music from White Zinfandel, Last October, The Gulch Band, Tim Holter and friends, Phineas Gage Project and Sugar Shack. Community-focused nonprofits and displays will focus on flood recovery and ongoing community projects, with kids' activities from 3 to 6 p.m.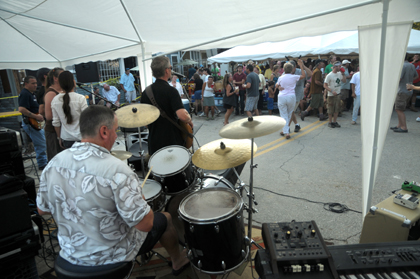 The MRV Rotary Club will announce their Person of the Year award to flood relief volunteers. Attendees will be invited to sign the Earth Charter from www.earthcharterinaction.org which will be presented to state representatives as a means to connect and have a voice regarding community resiliency and sustainability actions.
The event is sponsored by 1% for the Planet, the MRV Rotary Club, HigherMind Mediaworks, MRV Business Builders, Sperry Tents, Hartigan Septic, Deerfield Designs, SunCommon and Waitsfield's Masonic Lodge, along with dozens of volunteers working to organize logistics and entertainment donated by local musicians.
For more information, to be included as an event sponsor, or to volunteer, contact This email address is being protected from spambots. You need JavaScript enabled to view it. or This email address is being protected from spambots. You need JavaScript enabled to view it.. For more information about Mad River Valley Flood Recovery Efforts, visit www.facebook.com/MRVpostIrene.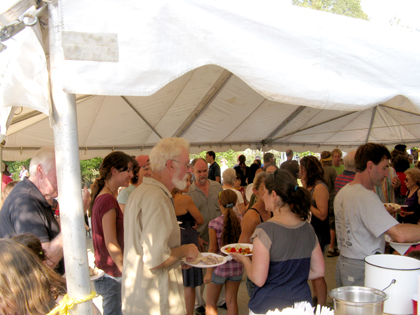 {loadnavigation}