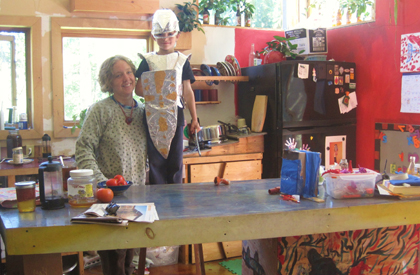 This week, as teachers prepare lesson plans, parents peruse bus schedules and kids pack up their pencil cases getting ready to go back to school, Cathy Stevens-Pratt, Fayston, and her 7-year-old son Azro are doing something different. They're going mushroom hunting.
"We don't really have a 'back-to-school,'" Stevens-Pratt said. "It's not just starting for us now."
Instead, Stevens-Pratt and her son have spent the past week digging up edible fungi in their backyard, bringing it to experts and looking it up in books for identification. "We know a lot about mushrooms now," Azro said.
Stevens-Pratt and her husband make up just one of several couples in The Valley who have chosen to homeschool their children. And, as many homeschooling parents will report, education doesn't stop during the summertime.
"Because of the way we learn, there are really no breaks," Jen Higgins, Warren, another homeschooling parent, said. For her, her husband and their 6-year-old daughter, Fiona, education is "really woven through our lives," she said, explaining that Fiona goes nearly everywhere with her—to the doctor's office, to the post office, to the grocery store and to the bank.
From these daily errands, Fiona learns to interact with a wide variety of people—not just those her own age—and the same is true for Stevens-Pratt and Azro. "He's best friends with everyone at the bank," Stevens-Pratt said. The idea that children who are homeschooled don't have opportunities to socialize is a "myth," she said.
In fact, five years ago—soon after her daughter was born—Higgins formed the Mad River Homeschoolers, "because I wanted to have a community set up for her," she said.
The group, which consists of Higgins, Stevens-Pratt and about four or five other families, meets once a week at the East Warren Schoolhouse. The format of the meetings "kind of evolves each year," Higgins said, but their main purpose is so that parents can exchange information and ideas.
"We say, 'here's what we're interested in, here's what we're doing, and do you want to be involved?'" Stevens-Pratt explained. Parents trade off teaching workshops, they bring in outsiders to teach crafts such as pottery and mosaics, and they carpool for field trips to places like the Flynn Center of Performing Arts in Burlington. "Before you know it, you end up with really fun events going on each week," Stevens-Pratt said.
In addition to coming up with classes and events, Mad River Homeschoolers helps provide a support system for a group of people who often find themselves having to defend their decision to homeschool their children.
"We have wonderful public schools and very talented teachers in our Valley," said Susie Snow, Fayston, another member of Mad River Homeschoolers, explaining that her decision to homeschool her children is not an affront to the public school system. 
"My husband and I choose to homeschool our children because we are able to and because we want to," Snow said. "It's a personal choice that works best for our family."
Unfortunately, Snow's personal choice was threatened last month, when Vermont Education Commissioner Armando Vilaseca published a memo that stated that families who homeschool their children must file their paperwork with the state between Labor Day and March 1 in order to be enrolled in home study for the following school year.
Before the July 23 memo, families were required to file paperwork with the state, but there was no official deadline. Now, homeschool enrollment notices filed after the deadline will not be accepted, and those not enrolled in public or private school after that date will be considered "legally truant."
While the memo may not seem like a major policy change, it could affect some families who wish to take their child out of school at the last minute, due to some unaccommodating circumstance.
Stevens-Pratt told the story of a family who removed their son from public school last April, after he was being bullied. Under the new statute, the family could have enrolled him in a private school, but they wouldn't have had the option of homeschooling him, as they wouldn't have filed their paperwork before the March 1 deadline.
The new statute, for Stevens-Pratt, reflects a "lack of support for homeschoolers," she said, and Snow agrees.
"My biggest fear about homeschooling in the state of Vermont," Snow said, "is that there will come a time when the Department of Education will view each homeschooler as lost revenue for their local public school and make it more difficult for families to educate their children at home."
Fortunately, the state's homeschooling community, at about 3,000-strong, is comparable to a well-sized school supervisory union and most families feel strongly about protecting their right to educate their children. "We're a serious constituency, surprisingly enough," Higgins said, "and we're working on organizing."
{loadnavigation}