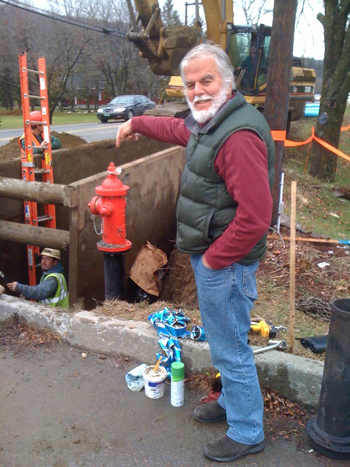 Amid all the noise of the ongoing litigation over Waitsfield's municipal water project, there's one part of the project that benefits all those living and paying taxes in the town: the fire hydrants that have been installed as part of the water project.
Installation of the fire hydrants added $1.3 million to the cost of the $7.6 million project. As designed and engineered, the cost of building and operating the project was to be borne by the users of the system as opposed to the taxpayers at large. The structure of the loans and grants that the town received for the project specify that project costs must be paid for by system users.
"What that means," said select board member Bill Parker, "is that everyone in town now has much enhanced fire protection and people who live within 1,000 feet of a fire hydrant, whether they are water system users or not, will see their insurance costs go down."
In order to install the fire hydrants, the size of the water mains had to be upgraded at an additional cost. Also, when the fire department tests the hydrants and uses water from the municipal project for fire department training, the cost of that water and that wear and tear on the system will not be paid for by all taxpayers but rather by the users of the systems, Parker pointed out.
"And the actual number of people who are going to be writing checks to the town of Waitsfield for their water usage and to pay for the project will be less than 100. There are over 200 equivalent residential units that have signed up to connect to the system, but it still comes down to fewer than 100 people writing checks to pay for the fire protection system that benefits all of us," Parker added.
The $7.6 million project is nearing completion and it will bring municipal water to WaitsfieldVillage, Irasville, Old County Road, WaitsfieldElementary School, Tremblay Road and Fiddler's Green.
Recently the town received additional grant money to cover project cost overages, including the cost of ongoing litigation with Virginia Houston who is contesting the town's permits for the project and the fact that the town's well is adjacent to wells she tapped on Reed Road.
The project is slated for completion in November and, according to municipal project manager Henry Erickson, the water main extension work is 90 percent complete. The last two extensions are on Farr Lane and Parsonage Lane.   The parking lot on Farr Lane opposite Bridge Street is scheduled to be closed for part of the day on Friday, September 7, weather permitting, for that work.  Service lines to water customers have been installed from the north end of Route 100 to near Bridge Street and will continue south over the next several weeks and the well house building is under construction.
{loadnavigation}