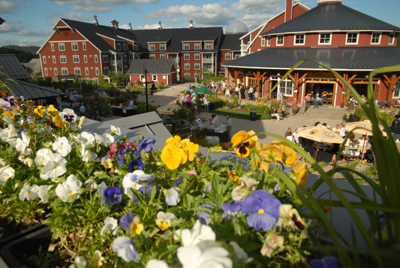 Sugarbush Resort has received the final permits necessary for the construction of new slopeside residences at LincolnPeakVillage. Recently awarded the necessary permits for the LincolnPeakVillage master plan and the construction of the Rice Brook slopeside homes, Sugarbush is in the bidding process to select its construction partner and hopes to announce a contractor and construction start date soon.
Situated between SugarbushVillage and the new LincolnPeak base area, the LincolnPeakVillage master plan envisions a 93-unit multi-phase residential development that will provide a mixture of ownership opportunities.
"Rice Brook marks an important step in our long-term vision for Sugarbush," said Win Smith, president of Sugarbush Resort. "This next phase of construction brings us closer to the goal of creating a vibrant slopeside community here at the mountain."
Designed by Warren-based architects Jim Edgcomb and Jeff Schoelkoepf, the Rice Brook homes are a mix of two-, three-, and four-bedroom townhomes and condominiums.
The 15 new residences offer ski-in ski-out access to LincolnPeak, close proximity to hiking and biking trails and are minutes from the Sugarbush Resort Golf Club.
Sugarbush is now accepting pre-construction reservations for the residences through Sugarbush Resort Real Estate. Ownership opportunities are still available for Rice Brook, though 7 of the 15 residences have already been reserved.
For more information visit sugarbushliving.com or call 1-800-806-1070.
{loadnavigation}