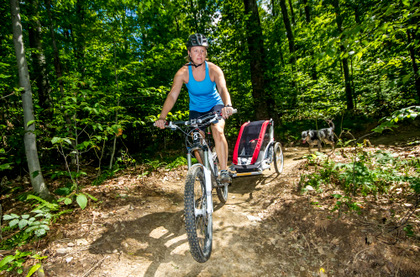 As fall descends, trail work continues almost daily at Blueberry Lake, led by Sustainable Trailworks, with support from the Green Mountain National Forest – United States Forest Service (USFS), the Vermont Mountain Bike Association (VMBA), the Mad River Riders (MRR) and the local community.
The lower northern loop of Phase 1 is done and the upper southern loop is coming along very fast. (See map.) Next tasks on the project list include building a bridge across the largest stream crossing and finishing the access routes.
While the network is not officially open, many people have discovered the trails and use increases daily. The feedback has been very positive, with accolades from diverse users. Beginner and mellower riders have appreciated the trails' smooth gentle flow, as have walkers, runners and stronger riders.
"This is local proof that well-designed, sustainable and fun trails have broad appeal. If you do plan a visit, please give wide berth to construction crews, even if it means turning around or bushwhacking," said spokesperson John Atkinson.
The Blueberry Lake project is the MRR's first official partnership with the USFS. This is the result of over a decade of advocacy and planning by VMBA and the MRR with the USFS.
"We offer many thanks to former VMBA executive director Patrick Kell, Hardy Avery of Sustainable Trailworks and USFS recreation and trail coordinator Holly Knox for their hard work, vision and support," Atkinson added.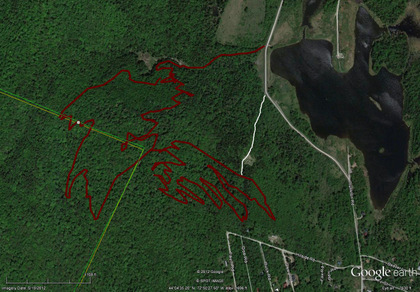 He noted that the benefits of this development for the community include access to high-quality multi-use recreation trails for local residents, enhanced travel and tourism opportunities and even some evidence of increased real estate values (www.railstotrails.org/resources/documents/resource_docs/tgc_economic.pdf) near trail systems like this one.
The Phase 1 trails are nearly completed, but organizers are still in need of support to finish them and get started on Phase 2 trails.
There are two ways to help.
The Mad River Riders and Sustainable Trailworks are hosting volunteer trail work parties every Sunday from 9 a.m. to 1 p.m. through October 7. Kids under 18 are welcome with a parent. Work usually consists of lopping, raking and smoothing. Bring food and water and wear appropriate clothing and footwear and remember gloves and eye protection, too. Meet at the parking area above the lake on the north side of the dam on Plunkton Road. For more information, check the MRR Facebook page, www.facebook.com/#!/pages/Mad-River-Riders/147795441983502.
Donations can be made online at www.bikereg.com/Net/15572 or mailed to Mad River Riders, c/o The Blueberry Lake Project, P.O. Box 1172, Waitsfield, VT 05673.
{loadnavigation}