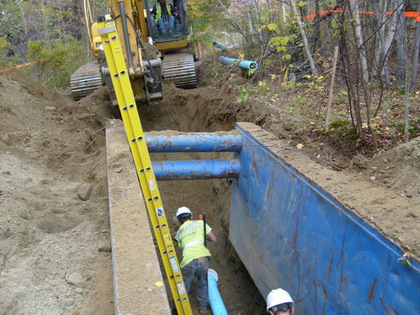 The taps will get turned on for the Waitsfield water project in early December, with water flowing to users at the north end of the system first and then proceeding to the southern end of the system.
The north end of the system is Tremblay Road and the south end is Irasville.
The municipal water project relies on water from a well on Reed Road and a 500,000-gallon storage tank on Bushnell Road to deliver water to Tremblay Road, Old County Road, Waitsfield Village and Irasville.
All water mains and extensions have been installed and the installation of individual property service lines is almost done, according to town administrator Valerie Capels. The water storage tank is currently filling.
Right now the tank is filling thanks to generator power because Green Mountain Power has been unable to complete the installation of permanent lines to the well/pump house since it diverted crews to help get the power back on in areas hit by Hurricane Sandy. When the tank is full to overflow, which is expected by today, November 15, the first of two samples will be taken.
If both samples are acceptable, flushing and disinfection of the system will begin – possibly as early as November 19. Flushing and disinfecting the system will be done from north to south. Then it's time to turn on the taps.
Turning on the taps will mark the end of a three-year construction project that was interrupted by litigation, spring flooding and Tropical Storm Irene.
{loadnavigation}