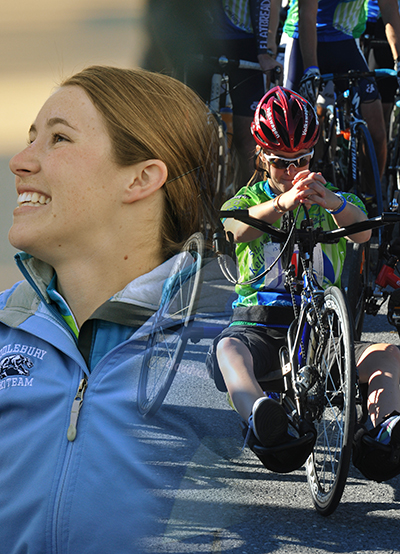 When millions of fans are riveted to the NCAA Final Four basketball games, viewers will also catch the story of a Green Mountain Valley School ski racer who rebounded from tragedy to start a foundation for paralyzed athletes.
The story of Kelly Brush Davisson and the Kelly Brush Foundation, which she started after becoming paralyzed in a ski racing crash, will be featured on CBS during the NCAA Division 1 men's basketball finals. The segment is scheduled to air at 3:30 p.m. on April 6. Brush Davisson, 26, who grew up in Charlotte, Vermont, is one of six former NCAA athletes to be profiled as part of the NCAA/Buick Human Highlight Reel during the finals.
A crew filmed the segment at Sugarbush Resort in Warren in late February, where Brush Davisson trained and raced as a high school student at Green Mountain Valley School. CBS sent a three-person film crew to Vermont in late February for a full day of video footage at Sugarbush. The film crew was also able to get footage of Brush Davisson monoskiing down Inverness, the race trail she trained on as a student at Green Mountain Valley School and which has been renamed the Kelly Brush Race Arena. The Kelly Brush Foundation has supported nonprofit ski racing clubs throughout the country by giving grants for netting and other equipment to increase safety and prevent injury.
Brush Davisson, together with her family, founded the Kelly Brush Foundation in 2006, following a ski racing crash that left her paralyzed. Despite her injury she remained active in sports, winning the women's hand cycle division of the Boston Marathon in 2011.
In the six years since its inception, the foundation has raised over $1 million to support the foundation's two-pronged mission to improve the quality of life for those living with spinal cord injury through helping athletes purchase adaptive gear and to improve ski racing safety by assisting race programs across the country in procuring safety equipment, such as netting to line courses.