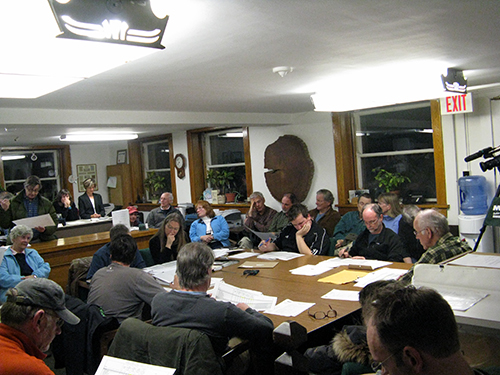 Citizens who favor Waitsfield voting again on the issue of new town offices are collecting signatures on a petition that will be presented to the Waitsfield Select Board at its April 8 meeting.
The petition was discussed at a standing-room-only meeting of the select board this week with people crowding into the overcrowded public meeting space to speak their piece about whether new town offices are needed and if so where.
The petition asks voters to "call upon the Waitsfield Select Board to provide town voters with an opportunity to choose between two viable locations for new Waitsfield town offices in historic Waitsfield and to take immediate, good faith steps to apply for $750,000 in Community Block Grant Disaster Relief Recovery to fund the relocation of the Waitsfield town offices."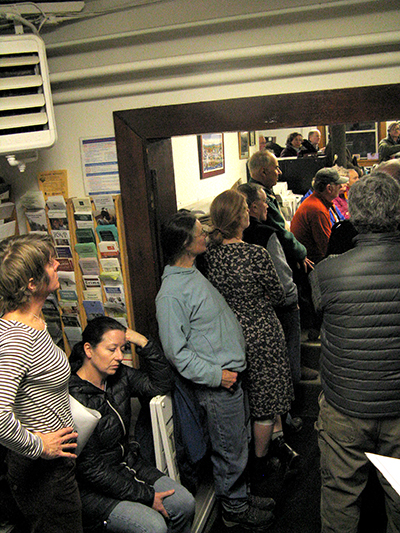 At a select board meeting on March 25, John Reilly, who explained the actions of the citizens putting forth the petition, said that it was driven by two reasons. First, a desire to give voters the choice of which of two sites in the village was best for new town offices and, second, to get something started soon enough that the town can apply for disaster relief funding while funds are still available.
At Town Meeting in March, voters rejected a bond vote to spend up to $1.6 million to build new town offices on the Farm Stand parcel on Route 100 in the village in front of the Flemer Field. The town office task force had assessed and ultimately did not choose to recommend to the select board that the former Methodist Church be renovated for new town offices. The task force, and later the select board's reasoning, was the significant cost difference with the Methodist Church expected to cost $2.4 million.
Before Reilly could get far in explaining the petitioners' plans to have a special ballot where voters would get to choose either the Methodist Church or the Farm Stand parcel, he was peppered with questions from those present and the select board.
"I've talked to a lot of carpenters and contractors who said they can't understand how we could bulid a building that size for $1.6 million," said board chair Paul Hartshorn.
Bill Moore, town resident and also a contractor, said that any builder the town used would have to be bonded and said that such a contractor would be accepting a fixed price bid which is riskier. He asked Hartshorn if the people he'd discussed the price with had been bondable.
"No, but they're damned good builders," Hartshorn said.
Select board member Chris Pierson asked Reilly about whether the task force has done extensive polling of the public, as it was tasked with doing.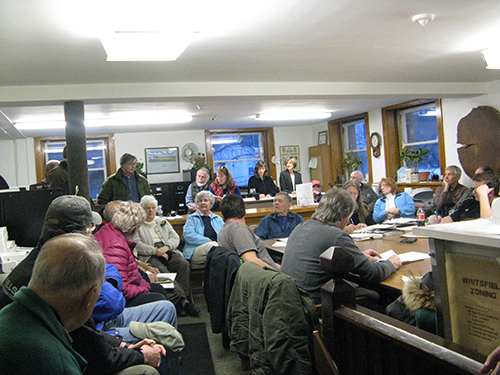 Reilly explained the outreach efforts of the task force over two and a half years and added, "You can't pay people to come" [to meetings].
Task force member Brian Shupe noted that the task force relied on previous town planning surveys, the Town Plan, as well as voters' actions at Town Meeting in 2011 and 2012 to guide its work.
Hartshorn responded that the Town Plan is only a guide and that it was adopted by the select board versus the voters.
"I'd say you got a pretty good survey from the Town Meeting vote. Now what are you going to do?" Reynells asked.
Reilly explained that the new petition will present reduced cost proposals for both the Methodist Church and the Farm Stand parcel, asking voters to first cast a yes or no vote on whether there should be new town offices in the village for $1.3 million (or less if the town receives the $750,000 grant) and, second, whether the town should (1) purchase the Methodist Church and renovate it for a fee not to exceed $2.1 million or (2) should purchase the Farm Stand parcel and build there for an estimated cost of $1.3 million.
Reilly explained that the fact that the Town Meeting vote did not give voters a choice needed to be addressed and by his rationale one-third of Town Meeting voters favored the Farm Stand parcel, one-third favored the Methodist Church and one-third favored neither and/or thought the proposals were too expensive.
Working with architect Bill Maclay (who is now volunteering his time) Reilly and others reduced the square footage of the Methodist Church and Farm Stand parcel proposals and came back with about $300,000 in savings on both projects.
Pierson questioned Reilly's estimated stats and Hartshorn said the cost of the original proposal was the problem. Pierson also offered information about the cost of a fireproof vault versus a concrete vault. He said he had researched the matter and found that a 10-by-20-foot fireproof vault could be constructed for about $42,000 and a 10-by-40-foot vault for $70,000 to $80,000. Cost estimates for vaults in the proposals for the Methodist Church and Farm Stand parcel allocated $100,000 for a vault.
Town clerk Jennifer Peterson asked Pierson whether the fire vaults were humidity controlled and he said they were.
The meeting devolved into a shouting match with those present shouting over the board at each other and board members responding individually at times and Reilly answering questions being tossed his way.
When order resumed select board member Parker queried town administrator Valerie Capels about how the grant application process could work. He wanted to know if an application for the grant (which Waitsfield stands a good chance of receiving) could be submitted prior to a vote and Capels said that it could be permitted as soon as there were definite plans for a vote. Reilly said that his group of petitioners would have their petition to the select board for action on April 8. By state statute, upon receipt of the citizen petition, the board must hold a vote within 30 days as soon as it can be properly warned.