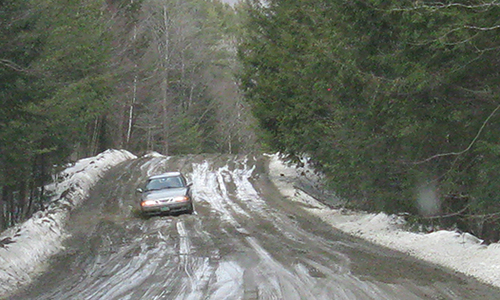 It's mud season in Vermont and the roads are bad.
"They're really bad," a resident of Ward Brook Road told the Moretown Select Board at their meeting on Monday, April 1, "and don't think the road crew has the education to know how to deal with this."
Last week, Moretown's road crew members worked up to 65 hours each repairing ruts and ditches. It's true that some of the crew members are still learning the correct grading techniques, but "they're doing the best they can with what they have," another resident responded.
Ideally, the crew would put more stone down on the roads, but it's expensive and sometimes still doesn't help, select board member and engineer Rae Washburn III explained.
The select board agreed that the real problem isn't on Ward Brook Road but Moretown Mountain Road, which has higher traffic and worse conditions. This past week, the road was closed except to residents and, according to select board member Reed Karrow, an emergency response vehicle would not be able to get over the top of the road, which has recently proved a "bottomless pit" for gravel, he said.
So is the town responsible for fixing the road to ensure the safety of its residents?
"It's open to discussion," resident and former select board member Clark Amadon said, explaining that while the town will do the best that it can, residents who choose to live in isolated areas must in part accept the consequences.
The select board agreed that putting a schedule for grading and road repairs on the town's website could be beneficial for residents, as some of the roads they're receiving complaints about already have work projects scheduled for this summer. "We just have to make it through until then," Karrow said.
Other Valley towns are struggling with mud as well. Waitsfield closed the bottom of Brook Road last week but has since re-opened it. Troublesome mud is reported in all the usual spots, including the Roxbury Gap, Fayston's network of dirt roads, Plunkton Road, etc. Colder temperatures this week firmed up the roads, at least temporarily.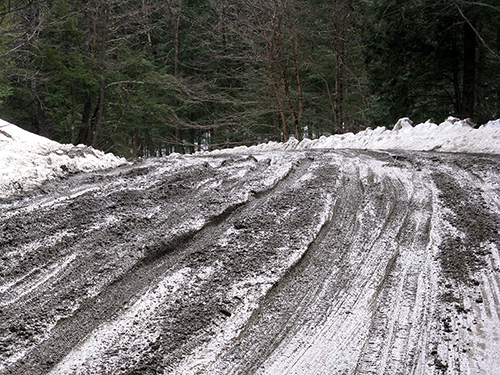 {loadnavigation}