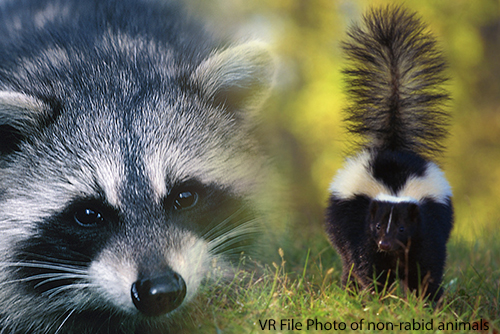 Four cows in East Warren are under quarantine after exposure to rabies and two have died due to rabies.
Dr. Roy Hadden, DMV, of Valley Animal Hospital in Waitsfield said that six weeks ago a Rochester resident brought him a raccoon that had porcupine quills in its face. Hadden anesthetized it and removed the quills but the raccoon did not recover from the anesthesia.
"The bottom line with any raccoon or fox with porcupine quills or that smells like a skunk is that they probably have rabies. They get stupid with it. A healthy raccoon would never try to bite a porcupine," he said.
That animal tested positive and several weeks ago people with a sick cow called him to East Warren.
"This other headache here happened to some folks over in East Warren with a half a dozen beef cows. They called on a Saturday and said one of their cows was weak and wobbly and that it had started the day before. I asked if the cow had recently had a calf and when they said yes, I thought it might be milk fever. I went out there and this thing was down, clearly with something neurological. She was flailing. I asked them what was the chance that the cow had been exposed to rabies and they said she hadn't been vaccinated for rabies," he said.
He was told by the people that a month earlier they saw their cows in a circle trying to stomp on something and all worked up. They went to check it out and found a skunk trying to bite the cows that were trying to stomp on it.
Hadden said that while the incubation period in small animals like dogs, cats or raccoons is about 10 days it can be up to six months in large animals.
The sick cow was put down and Hadden sampled her brain to send to the state labs. He said that the owners were advised to get rabies vaccinations themselves because if the cow tested positive they could have been at risk of exposure if they'd had any open cuts or scrapes on their hands.
He was paged back to the same farm while driving away because the owners found their bull dead in a little stream. The bull had broken through its fence the night before.
Rabies, Hadden explained, used to be called hydrophobia (fear of water) because it causes animals to be unable to swallow water and results in great thirst. This causes animals to seek water yet fear it because they aspirate it and drown.
He told the owners to bury it in a pit with the other dead cow and to be careful not to touch its head.
"The bottom line is that cows should be vaccinated. The only domestic farm animals that the rabies vaccine is not approved for are pigs. Pigs are pretty resistant. But sheep, cattle, goats, horses, they all need to be vaccinated," he said.
The body temperatures of chickens are too high and rabies is very temperature sensitive, Hadden explained. In response to the question of whether or not the first sick cow could have been slaughtered and eaten three days prior to falling sick, Hadden said that the virus dies very quickly once the body temperature drops. He said that the virus does not live in the environment and that people can't get it from surfaces. It is transmitted from open wounds into the bloodstream by saliva.
"I'm concerned, but I don't think this is an epidemic. I don't think all skunks have rabies or that you should panic if a fox runs through your yard. These people didn't know cows got rabies," Hadden said, noting that the increase in small-scale backyard farmers means that others may not know as well.
The state quarantine means that the cows can't go anywhere or be mingled with other animals for 45 days. If they were dairy cows, their milk could not be sold.
"It is sad for these people. Imagine if it happened to a large dairy farm like the DeFreests with 1,200 cows? That would be a disaster for them. That's why we spend four days up there vaccinating every one of those cows," Hadden added.
He said that while people can buy the rabies vaccine and administer it themselves, for the state to acknowledge that an animal has been vaccinated – should the question of rabies exposure arise – a vet has to have administered the vaccine.
{loadnavigation}