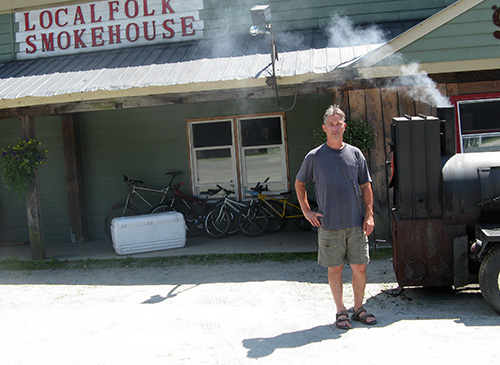 Coming this winter, there will be two new taps at the Localfolk Smokehouse in Waitsfield.
Localfolk owner John Morris is joining the growing microbrewery movement and installing a two-barrel, double-batching system in the basement of his bar and restaurant. The system will produce eight kegs of beer at a time. "It's very small, relatively," Morris said, "but it's something I've been wanting to do for a long time."
Morris is excited about the in-house brewery "because of my love of beer," he said, but also because "nobody's done it here in The Valley—I think mostly because of the water." Depending on its nutrient makeup, water can greatly affect the taste of beer. Historically, water in The Valley has not been well-suited for larger scale brewing, Morris said, but water from Localfolk's well "has tested well."
Localfolk's beer will be sold on tap upstairs under the name Cousins Brewing Company, which Morris conceived with his cousin, Paul Noglows, and brother, George Morris. Morris plans on hiring a brewmaster, perfecting one "more mainstream, IPA-style beer" and rotating the other tap with specialty flavors.
To develop those specialty flavors, Morris will call on local homebrewers. "There's some serious brewing talent in The Valley," Morris said, explaining that he's gotten to know many aficionados as customers in his bar, which sells several niche beers.
Already, Sean Lawson, the homebrewer turned full-time force behind the sought-after Lawson's Finest Liquids in Warren, has been helping Morris with the preparations for his own operation. So far, Morris has ordered equipment and is working on renovating the space. He's secured permits up to the federal level, and he hopes to have beers on tap by Thanksgiving, "and for sure the ski season," he said.
{loadnavigation}