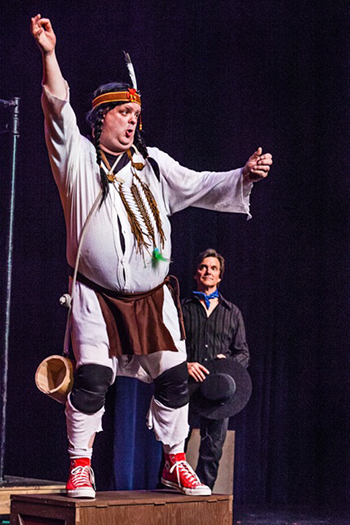 The Skinner Barn Theater Co., Waitsfield, under the direction of Peter Boynton, opened its production of The Fantasticks out of town two weeks ago at Middlebury Town Hall Theater to great success! This was the company's first venture touring a production outside its Mad River Valley home at The Skinner Barn in Waitsfield.
Poignant, funny and infused with beautiful music and songs like "Try To Remember," the show is a delight for audiences of all ages. The comic antics of Henry, the old actor, and Mortimer, the man who dies, add a light touch to a lovely coming-of-age story for two young lovers who need to experience the disappointments and hardships of the real world before realizing that love was waiting for them in their own backyards.
The show returned to The Skinner Barn on Thursday, August 1, and runs Wednesday through Sunday, August 7 through 11 and 14 through18. All shows are at 8 p.m.