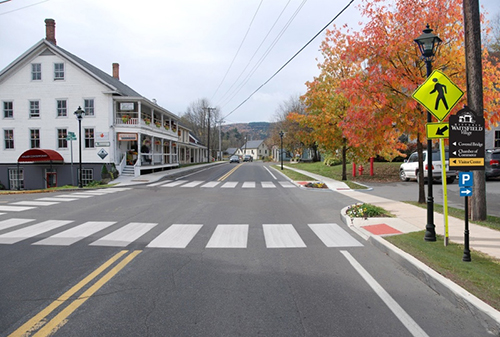 By Rachel Goff and Lisa Loomis
In Warren, Waitsfield and Fayston, 23 percent of those employed are self-employed, Vermont Downtown Action Team (V-DAT) project coordinator Tripp Muldrow reports.
From this data, one can infer that "if you're living here, you're making some pretty deliberate choices ... to be here," Muldrow said. Self-employed residents "can live anywhere," but they're choosing to live in The Valley because "they're choosing quality of life."
Muldrow and his V-DAT consultants presented options for enhancing the quality of life in Warren Village even more at a meeting on Friday, October 18, taking into account public input the team received at a meeting held earlier last week, on Tuesday, October 15.
They held a similar meeting later in the day in Waitsfield.
V-DAT provides professional services in long-range strategic economic development planning and strategies for targeted flood resilience work, and Warren Village and Waitsfield Village were among seven downtowns or villages affected by Tropical Storm Irene that were selected to be the focus of V-DAT action-oriented planning projects to be conducted between the summer of 2013 and the winter of 2014.
"There's a lot to look at, so we're definitely calling this preliminary," V-DAT project coordinator Tripp Muldrow said at the start of last Friday's meeting. To start, Muldrow shared the results of surveying that V-DAT conducted at 18 locations within the Warren and Waitsfield zip codes this past Columbus Day week.
VALLEY MARKETING/ECONOMY
At those locations in Warren, Waitsfield and Fayston, V-DAT recorded 1,400 customer visits. Most of the customers were nonresidents, Muldrow said, explaining that they represented 45 states, 10 countries and—in total—685 unique zip codes.
Muldrow said that the zip code research showed the state's that were represented and that it was easy to figure out which state's residents were not coming to visit.
"Those doggone North Dakotans. You can't pry them loose, or there's so few of them that they can't go visiting," Muldrow joked.
From this information, it's obvious The Valley's economy is "visitor-dependent," Muldrow said. The survey was conducted during "peak times," however, and V-DAT plans to conduct a "non-peak" survey to provide a more balanced data set.
Taking a closer look at The Valley's economy, Muldrow reported that Warren and Waitsfield are not "leaking communities... but gaining communities." In other words, stores in the area are accumulating more money than residents who live in the area are spending. Again, another sign that The Valley is "visitor-dependent," Muldrow said.
He said that total sales in The Valley were $122,415,370 with locals spending $85,420,354 and visitors spending 440,995,016. He broke down some of the individual categories of spending where locals were taking their purchasing power outside of The Valley and said that the local towns should be aware that the quantity and type of money that residents are spending out of The Valley might make The Valley attractive for a retail chain such as Family Dollar Store. He said that local planners should be prepared, from a zoning standpoint, to deal with that.
As far as residents, Waitsfield, Warren and Fayston have an estimated combined population of 4,350 for 2013, Muldrow said. The median age of residents is 46, which is higher than the state's median age of 42 and the country's median age of 37. The median household income is $67,783.
CHARACTERIZING WARREN
V-DAT characterized Warren Village itself as "informal and friendly," with architectural themes based in stone. Expanding on one resident's suggestion that the bridges in town be paid more attention, V-DAT suggested adding stone walkways, lamp posts and flowers to unify the four approaches to the village.
Also suggested last Monday was the creation of a town green. Muldrow and his team called upon a design charrette that Warren conducted on the issue about 25 years ago, which resulted in plans for the Ruby Blair House, moving the municipal parking adjacent to it to behind the Warren Municipal Building and turning the available space into a green.
V-DAT presented the charrette results "to recognize that there had already been work done" on the town green idea, which doesn't mean that they couldn't be altered to fit the town's present wants and needs.
One resident who attended the meeting acknowledged that the land behind the Warren Municipal Building is currently private property and would have to be purchased, while others expressed concern that moving the municipal parking further back from Main Street could cause a decrease in its use.
Last Monday, V-DAT also heard residents' concerns about controlling the speed of cars on Main Street and Brook Road, and on Friday the team presented several traffic-calming options, such visually narrowing the road by installing different paving surfaces along its edges.
"These folks from the city who don't know how to drive in a village.... How do we tell them in a village-like way?" Muldrow said, explaining that materials such as flagstone would be more appropriate for Warren Village than guardrails. Also, by narrowing the road visually rather than physically blocking it off, bigger vehicles such as trucks and busses could still travel the road during busy tourist seasons.
With regard to stores and services that residents would like to see incorporated into Warren Village, including a café or pub and more art galleries, V-DAT presented a plan for constructing a series of small buildings in the village's vacant lot.
"We're trying to be very general with some of these recommendations," Muldrow said at the end of the meeting, explaining that the next step in the process will be to solicit feedback on the recommendations.
There are opportunities available to help implement the recommendations, Muldrow said, explaining that the state of Vermont will be giving out $18 million in the second round of Community Development Block Grants (CDBG).
The CDBGs "will still be competitive," Muldrow said, but V-DAT has identified projects that they feel fit well with the grants, and they are prepared to help Warren apply for them.
CHACTERIZING WAITSFIELD
The team characterized Waitsfield as comfortable, friendly, maybe a little bit shabby, rural with a distinct transition to a contained development area, river-centric and defined by the covered bridge. They outlined ideas for strengthening the intersection of Route 100 and Bridge Street, noting that the wide-open entrance to the municipal parking lot south of the Masonic Lodge could be enhanced with a crosswalk on each end, flowers, gas lights, trees and sidewalks to visually close that gaping expanse of parking lot.
They said that they were struck by how stone was used in Waitsfield to define spaces and pointed out how it could be used to create a pocket park on Bridge Street. They presented a slideshow that had various enhancements Photoshopped into the pictures, including making the entrance to Waitsfield Village more pronounced, using the alley between the blue building and Artisans' Gallery on Bridge Street as a combined restaurant seating/pedestrian zone.
They discussed an idea of creating a small pod of little cottage-like buildings at the back and south end of Bridge Street Marketplace, similar to the small building where Bridget LaMell has Bridget's Widget's shop. Those little shops would be elevated and connected by an elevated boardwalk to reduce the threat of future flooding.
They also discussed potential future uses for the former Methodist Church and the Flemer barns, pointing out the value of mixing uses from public to private, creating spaces for seniors as well as kids and also talked about a variety of funding sources that exist to help transform historical buildings into functional community spaces.
Their presentation concluded with a few pictures of what and how Village Grocery (which they identified as the center of the town!) might be enhanced. Working with some ideas from Village Grocery owner Troy Kingsbury, they created a photo that showed a pitched roof over the gas pumps featuring solar panels and a new sign – as well as a sidewalk.
The consultants will be back in The Valley in November to continue working with Warren and Waitsfield on branding and marketing.
UPDATE (10-25-13):
The following links were sent via email by MRVPD Director Josh Schwartz
"Thank you to all that participated in last week's Vermont-Downtown Assistance Team meetings! The consultants kept plenty busy throughout the week engaged with landowners, merchants, and interested community members. I'm excited to share links below to the slides presented at last Friday's 1:30 pm Preliminary Concept Presentation. The first is a Youtube link of the presentation slides including commentary. The second is a PDF version of the presentation. Please share the presentation far and wide. 
Do note that work on this project is ongoing. The consultants are working to address comments made at the Friday presentation as well as other ongoing dialogue. They will be visiting Waitsfield Village again in November and December, with a final product at the end of the year. Feel free to contact V-DAT representative Stephanie Francis <
This email address is being protected from spambots. You need JavaScript enabled to view it.
> or myself with any feedback or questions. 
Sincerely,
Joshua
Joshua Schwartz, Executive Director
Mad River Valley Planning District"
{loadnavigation}