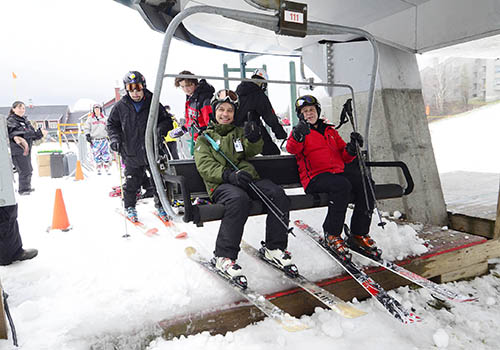 Sugarbush opened Lincoln Peak to packed parking lots last weekend on November 23 (with a preview opening for pass holders on November 22). There were six trails open and on Sunday there was six inches of new powder.
Coming into the Thanksgiving weekend, Sugarbush has Jester, Allyn's Traverse, Organgrinder, Downspout, Lower Downspout, Lower Jester and Coffee Run open. The resort is making snow on Lower Jester, Lower Organgrinder, Pushover, Lower Pushover, Easy Rider and First Time.
At Mount Ellen, Green Mountain Valley School students are training on Inverness on the weekends. Resort spokesperson John Bleh said, "Our goal is to have terrain for all abilities as soon as possible, depending on what this storm does."
At Mad River Glen, spokesperson Eric Friedman said the base is prepared and that last weekend's storm created some nice wind slab.
"We're one storm away from opening," Friedman said. Pending the arrival of that "one storm," Friedman said the resort hopes to open by mid-December and "as soon as Mother Nature allows."
Mad River Glen does have limited snowmaking on its practice slope and has been making snow there as the weather allows.
{loadnavigation}