Washington West Supervisory Union, along with the College of Education at the University of Vermont, selected two local educators to be honored as an Outstanding Teacher for 2013. Meg Boisseau Allison from Moretown Elementary School and Michael Coyle from Harwood Union High School were each selected for exemplifying one or more of the following five standards for Vermont educators: learning, professional knowledge, advocacy, colleagueship and accountability.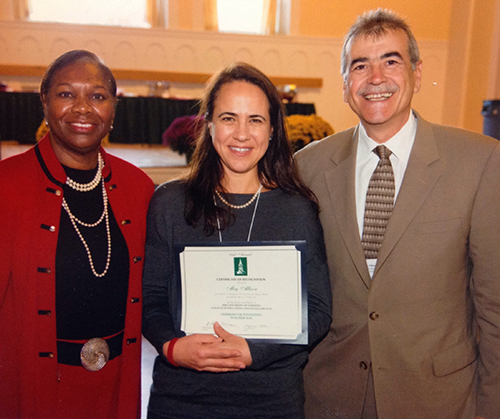 Allison is Moretown Elementary School's teacher-librarian and educational technologist. She has been a driving force in implementing a successful one-on-one computing program for all third- to sixth-graders and also in creating a passion for reading and inquiry with her students.
Coyle teaches science at Harwood, where he infuses his lessons with passion and purpose, bringing alive the cosmos for his students and inspiring them to engage with science at deep levels.
Both educators were honored at the 33rd annual Outstanding Teacher Day at the Ira Allen Chapel in Burlington, along with their administrators, Duane Pierson from Moretown Elementary and Lisa Atwood from Harwood Union. Agency of Education commissioner Armando Vilaseca and dean of the College of Education Dr.Fayneese Miller were on hand to offer their congratulations.
{loadnavigation}