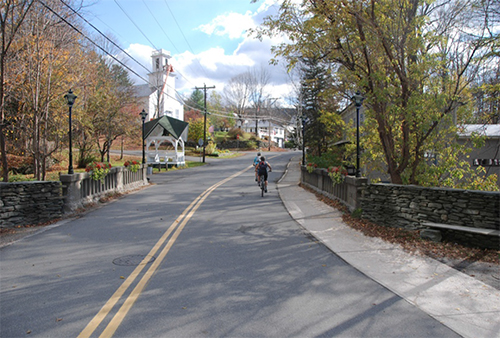 By Lisa Loomis
Waitsfield and Warren may reap more benefits from their participation in the Vermont Downtown Action Team project that took place in mid and late fall.
The towns were among seven in the state that were affected by Tropical Storm Irene and became eligible for action-oriented planning projects aimed on strengthening identity and economic vitality.
When the V-DAT planning teams were in The Valley in the fall, the consultants worked with large and small groups in each town, brainstorming about identity and what might improve each village. They created a brief presentation using altered pictures to show how Waitsfield and Warren villages might look with some improvements.
Now both towns have the chance to further some of the V-DAT recommendations. Vermont has recently been awarded $17.932 million in Community Development Block Grant Disaster Recovery II (CDBG-DR) funds. Both Waitsfield and Warren are eligible to apply for up to $5 million in competitive grants.
These funds are focused on public property, specifically projects restoring and enhancing (public) facilities in the hardest hit communities and would include streetscapes, lighting, facades, sidewalks, wayfinding and other physical improvements to downtown commercial areas. The funds are available on a first-come, first-served basis with applications being reviewed by the CDBG-DR board monthly.
Prior to application, all projects are required to go through an environmental review process. The grants require a 10 percent match, which can be financial or in-kind, and funded projects must be completed within a two-year window. A benefit of being a V-DAT community, in addition to identification of village enhancement projects, is assistance with the grant application process, including environmental review (up to two applications).
In Waitsfield, the town's V-DAT advisory committee identified two projects they would like the town to pursue. The first is the design and creation of a pocket park on the small parcel of land on Bridge Street where the Birke Photography Studio stood until Tropical Storm Irene destroyed it.
The second proposal for Waitsfield is an upgrade to the intersection of Route 100 and Bridge Street. Last fall when the V-DAT consultants presented their ideas for Waitsfield Village, their Photoshopped version of this intersection generated great enthusiasm and interest.
In Warren, the town's V-DAT advisory committee identified two projects to pursue as well. The first involves upgrading the village bridge on Main Street over Freeman/Kids Brook with stacked stone, light poles, planters and sidewalk upgrades. The second involves Main Street streetscaping and traffic calming between the village bridge and Brook Road by visually narrowing the roadway using paving surfaces, planters, parallel parking, crosswalks and wayfinding signage.
The V-DAT work in The Valley is handled through the Mad River Valley Planning District where director Joshua Schwartz is working to get the applications from both towns to the Community Development Block Grant offices for their February meeting.
{loadnavigation}