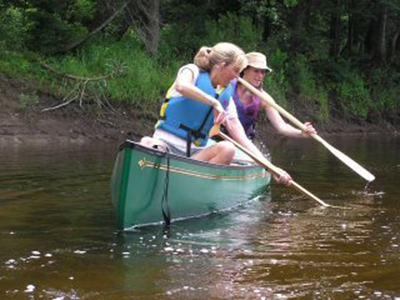 Kate Williams, Waitsfield, is stepping down as director of Northern Forest Canoe Trail (NFCT) to join Waitsfield-based 1% for the Planet as director of partnerships and New England network.
Williams, former chair of the Waitsfield Select Board, was with Northern Forest Canoe Trail for 10 years.
Williams has worked to raise awareness for paddling along the trail's 740-mile route in New York's Adirondacks, Lake Champlain and the rivers and lakes of northern Vermont, New Hampshire and Maine.
Williams is responsible for establishing the nonprofit's website and online Trip Planner, managing a film festival that annually travels the Northeast showcasing watersport films and providing advice to hundreds of canoeists and kayakers.
During Williams' tenure, NFCT has accomplished the following:
• Published a 13-map series and guidebook.
• Grown individual membership to more than 1,000 members and fundraising to a sustaining level.
• Developed a Trail Stewardship Program that engages interns and regional volunteers to improve and enhance the multi-state route.
• Launched a Youth Outdoors Program for underserved kids in trailside communities, connecting them to their backyard waterways.
• Recruited and engaged a dynamic and committed board of directors.
• Grown business and corporate partnerships to provide both financial and in-kind support for programs and operations and led a new approach to collaborative strategies.
A Search Committee is currently accepting applications and holding interviews. Interested candidates can view the job description and application instructions at www.northernforestcanoetrail.org/AboutNFCT-2/NFCT-Jobs-83.
{loadnavigation}