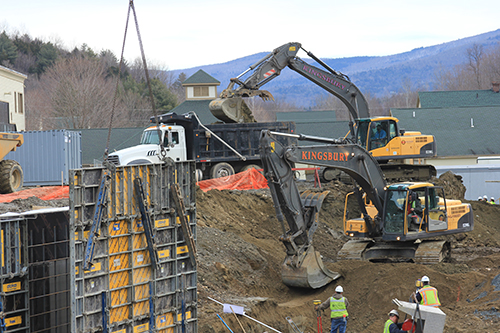 Green Mountain Valley School (GMVS) in Fayston broke ground on a 30,000-square-foot Racing Performance Center last month. Funded entirely by donations, this center will become the heart of athletic training and ski-tuning facilities, according to school spokesperson Martha Kikut.
The Racing Performance Center consolidates the academy's athletic facilities, creating a new focal point on campus. The center will house a multi-purpose gym, indoor track, physical therapy center with therapy pool, state-of-the-art ski preparation and maintenance services, weight rooms and spinning rooms. Coaches' offices as well as tuning and ski storage facilities for all students will be located within the new building. An architectural focal point is a two-story atrium with open views and lounge area, designed to foster collaboration among students and faculty.
GMVS has a long history of preparing students to race at the highest levels. National teams, as well as the most competitive college ski teams in the country, regularly recruit its students. Currently, there are seven graduates on the U.S. Ski Team, one on the British Junior National team and one on the Irish National team. GMVS alumni are currently racing Division 1 for Boston College, Dartmouth College, Harvard College, Middlebury College, University of Denver and University of New Hampshire, as well as the following competitive teams: Babson College, Bowdoin College and Brown University.
"We are thrilled to have broken ground on the Race Performance Center. Placing all the athletic faculty and services under the same roof as student meeting and ski-tuning areas creates a community center and maximizes student-coach communications. In addition to creating a central meeting point for students and staff, the new tuning and training facilities will secure us as an innovative leader and cultivate our goal of providing every GMVS athlete with a platform for success," says Dave Gavett, GMVS headmaster.
In advance of the completion of the center, a collection of the newest Wintersteiger tuning machinery has been purchased – the combination of which exists nowhere else in the world. The equipment is already in use in the current tuning center and will be moved to the new facility adjacent to an athlete tuning room. That means that racers will get more hands-on instruction, have their concerns addressed in a more efficient manner, and be able to more effectively eliminate equipment as a variable in the larger ski-racing success equation.
The Racing Performance Center was designed by the architectural firm Charles R. Myer & Partners, Ltd. of Boston, MA, and construction is being managed by Engelberth Construction of Colchester, VT. Kingsbury Companies, LLC of Waitsfield is the site excavator.
{loadnavigation}