New England lost ski areas
By Rachel Goff
Before big ski resorts there were small rope tows, many of which occupied the backyards of inns and lodges or were sponsored by colleges and towns on public land. The first rope tow in the U.S. belonged to the White Cupboard Inn in Woodstock, Vermont, in 1934, where innkeepers Robert and Elizabeth Royce installed a device to pull skiers up a hill in a neighboring farmer's pasture.
New England Lost Ski Areas Project founder speaks at MRG
On Saturday, January 25, Mad River Glen presents an evening of skiing history featuring a talk by Jeremy Davis, founder of the New England Lost Ski Areas Project (NELSAP), and a screening of the film United We Ski.
This event will take place in Mad River Glen's General Stark's Pub beginning at 7 p.m. Free fondue will be provided by Cabot Cheese and General Stark's Pub will be open.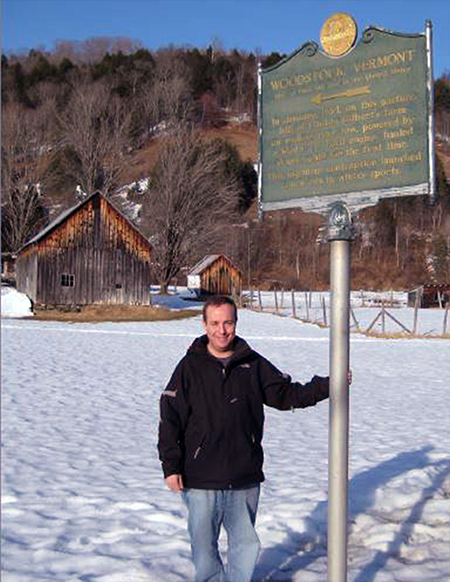 Over the years, similar rope tows sprung up across the state—and the Northeast—with several located in The Valley itself. Over the past few years, residents have helped to memorialize through submissions to Jeremy Davis' website, the New England Lost Ski Areas Project (nelsap.com). The local ski areas included on the website are featured below.
Tucker Hill Lodge, Fayston
Tucker Hill Lodge, located off Route 17 in Fayston in the current site of Tucker Hill Inn, opened in 1948. Up until the early 1950s, owners Ann and Francis opened a 600-foot-long rope tow behind the lodge, where each year they hosted a winter carnival. According to Davis, the lodge's rope tow "most likely closed because of Mad River Glen right up the street," he said. "That's the case with a lot of these places."
Alpen Lodge, Waitsfield
In 1963, a peewee rope tow operated out of Alpen Lodge on Route 100 in Irasville until the following year, when developers Frank and Ann Day installed a new 1,500-foot rope tow, which took skiers up the slope behind the current site of Shaw's Supermarket to Knoll Farm. The rope tow was powered by an old Buick engine and lasted about a year.
The Foot-O-Mount Lodge, Waitsfield
Located on Route 100 just a quarter-mile south of Irasville in the current site of Allen Lumber, Ray Thorp operated a 1,200-foot rope tow out of Foot-O-Mount Lodge. Thorpe's rope tow allowed local skiers to access a 35-acre slope and was relatively established in that the lodge provided shelter, food and first aid instruction.
Harwood Union School Ski Area, Duxbury
According to Brian Linder of the Waterbury Historical Society, in 1967 Harwood Union Middle School and High School teacher and ski coach Stu Campbell had a 45-foot ski jump constructed on the steep terrain immediately behind the parking lot of the Duxbury building. The jump connected to five kilometers of cross-country skiing trails also behind the building.
Sometime around 1972, a Harwood Union shop class constructed and installed a rope tow in the area of the ski jump, although no official records can be found about the device. During the winter of 1981-82, however, Vermont Tramway Reports announced the opening of a 500-foot rope tow in that same area, which operated for several years until 1985. In the early 1990s, the rope tow was dismantled and installed as part of a private ski area behind a house in Moretown.
Perry Hill Ski Area, Waterbury
In 1938, the town of Waterbury announced the opening of Perry Hill Ski Area about one mile from the village, where a 1,000-foot rope tow carried skiers up 225 vertical feet with a maximum slope of 19 degrees. Perry Hill Ski Area was free and open to the public on Saturdays and Sundays throughout the winter, but it closed after only one year of operation. Brian Linder of the Waterbury Historical Society hypothesizes that the rope tow was taken from Perry Hill and moved to Pinnacle Park Skiland, which opened in town the following year.
Pinnacle Park Skiland, Waterbury
In 1939, the newly organized Waterbury Ski Club opened Pinnacle Park Ski Skiland, which was located less than a quarter-mile from the intersection of Main Street and Stowe Street, where a 1,000-foot rope tow allowed skiers to access rolling, uninterrupted terrain.
According to an article that appeared in a January 5, 1939, in The Waterbury Record, Pinnacle Park Skiland's opening weekend attracted hundreds of skiers from out of state and railroads traveling between New York City and New Haven and Hartford, Connecticut, offered all-inclusive tours that brought people to the area.
According to the article, "Members of the ski club and the people of the town did everything possible to give the visitors a good time and make them feel at home. To show their appreciation, many of the guests joined the Waterbury Ski Club and purchased the club emblem to wear on their jackets." Pinnacle Park Skiland's rope tow remained in operation for several years and is estimated to have closed sometime soon after 1942.
Waterbury Village Ski Area, Waterbury
The last of Waterbury's alpine hot spots, Waterbury Village Ski Area operated between the mid-1940s to mid-1950s. It was located on Blush Hill with its base at Intervale Avenue and may have utilized parts of the Perry Hill and Pinnacle Park Skiland's rope tows for its own 750-foot tow. According to Brian Linder of the Waterbury Historical Society, the ski area most likely closed due to construction of I-89 through town.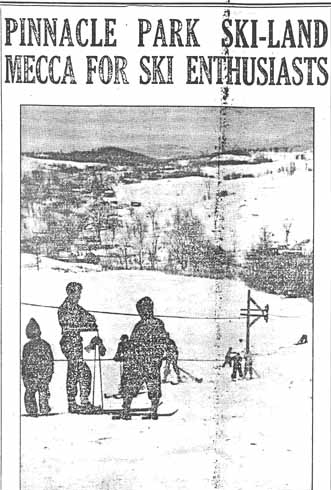 So what led to the demise of the lost ski areas?
By Lisa Loomis
The lost ski areas are legion. What happened to them? Jeremy Davis, founder of the New England Lost Ski Areas Project, said that it was variety of causes over several decades that led to the closure of many small, family-owned or municipally owned ski areas.
"It was a combination of several factors over many generations. There were a lot that closed during World War II. A lot of young men were drafted or enlisted and they had been the ones helping run the ski areas and enjoying them. There were gasoline shortages, restrictions on travel and the country was not engaging in recreation at the same levels as before," Davis said.
Then there were some very bad snow years in the mid-1950s which took a toll on the number of ski areas.
"There's a myth that it used to snow from November to May, but that was no more the case then than it is now," Davis said.
He said that peak years for New England ski areas were the 1960s and said that in the winter of 1969-1970 Vermont had about 70 operating ski areas that ranged from single rope tows to Killington.
But then came the energy crisis of the 1970s and some of the smaller areas were not able to stay open. Compounding the problem was a significant decision by the Vermont Supreme Court in 1978 that changed the concept of ski area liability.
That case, James Sunday versus Stratton Mountain, established a new level of liability for ski areas. Previously skiing was considered an inherently dangerous activity that people entered into at their own risk. The case involved a 21-year-old novice skier who fell while skiing on a novice trail at Stratton in 1974. He fell or tripped over brush on the edge of the novice trail that was covered by loose snow. He was paralyzed. A jury awarded him $1.5 million and Stratton appealed to the Vermont Supreme Court and lost.
"Some ski areas could not afford the liability insurance that ski areas had to have after the Sunday versus Stratton decision. Others could not afford the grooming or snowmaking or new lifts that the bigger areas could afford," Davis said.
"And then there were years where lack of snow meant that ski area owners had to pay their liability insurance despite having no skiers. 1979-1980 was one of the worst years ever. If you look at stories of the Winter Olympics at Lake Placid, they almost could not take place because of the lack of snow. They had to truck in manmade snow," Davis said.
{loadnavigation}