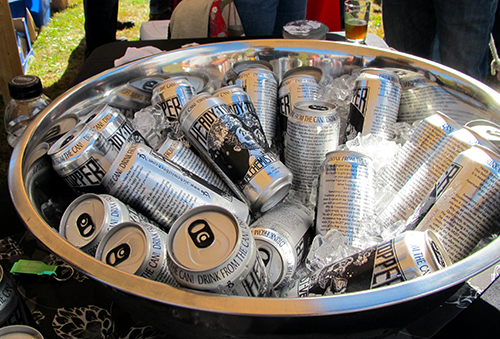 The Alchemist's announcement this past November that it was closing its cannery to the public dealt a hard blow to beer lovers who drove hours to purchase cases of the sought-after double IPA in Waterbury. It turns out, however, that the cannery's closure could mean bigger and better things for Heady Topper fans in the not-so-distant future.
On Monday, January 21, The Alchemist announced on their blog that they are looking to open a second brewery with a tasting room and retail shop.
Originally, owners Jen and John Kimmich had just planned to open a small retail shop that would allow them to continue to sell their beer directly to customers, but after investigating dozens of options in the Waterbury area they have yet to find any that meet The Alchemist's needs. One location seemed perfect, Jen Kimmich explained, until a traffic study determined that The Alchemist would have to widen Route 100 and put in turning lanes to accommodate the volume of cars that would be traveling to and from the shop.
"We are not opposed to investing in our town or state's infrastructure as long as it makes sense for us long term," Kimmich wrote on the brewery's blog. "However, we quickly realized that this would not be a smart decision for The Alchemist. Besides the huge cost associated with the highway upgrade, the time required to get through all the red tape would have been daunting—simply to open a free-standing retail shop."
So instead, The Alchemist is looking for a piece of property on which to build a second brewery to make beer for sale on the premises. The new brewery will include a tasting room and retail shop and it will be "much like our old shop but bigger and better to sustain our customer base and traffic," Kimmich wrote. "We have many properties under consideration and are confident that we will find something ideal and close to home," she said.
Meanwhile, the old Alchemist location will continue to produce 9,000 barrels of Heady Topper a year and will continue to serve as its distribution base. As for the new brewery, "John has all sorts of exciting things planned in regards to the beer," Kimmich said, and customers can look for an update from him in the coming days on alchemistbeer.com/blog.
{loadnavigation}