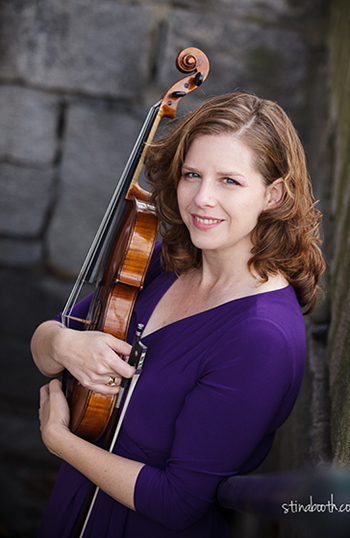 On Friday January 31, at noon, Joslin Memorial Library will host a viola recital and potluck lunch that is free and open to the public.
Violist Elizabeth Reid will discuss her personal experiences with the contrasting musical scenes of her native country of Canada and her adopted country, the United States. She will also play selected works for the solo viola from both countries, including pieces by Milton Barnes, Derek Healy, Quincy Porter and Brookfield composer Erik Nielsen.
Reid has become highly in demand as a viola soloist, chamber and orchestral musician in Vermont over the last few years. Her playing has been described as having a "deep and expressive sound" and a "natural musicality" (Times Argus).
Reid is currently principal violist of the Middlebury Opera Orchestra. She is also a member of the Burlington Chamber Orchestra as well as playing regularly with the Vermont Symphony Orchestra, the Dartmouth Symphony Orchestra, New York Chamber Soloists and Capital City Concerts. She also plays regularly with Alison Cerutti in a viola-piano duo in central and northern Vermont.
A native of Hamilton, Canada, Reid started violin at the age of 7 in the public school program. At the age of 10 she switched to viola within one week of hearing the viola for the first time. She went on to study for her bachelor's and master's degrees in viola performance at the University of Western Ontario and an Artist Diploma from the Glenn Gould School, Royal Conservatory of Music in Toronto. She has performed across North America including the Arts and Letters Club in Toronto, Hertz Hall in Berkeley and the Southern Illinois Chamber Music Society. Reid has also played principal viola in the Scarborough Philharmonic Orchestra, the Banff Opera Orchestra, and the National Orchestral Institute.
She has a strong interest in contemporary music and has been involved in various premieres of solo and chamber works in Canada and the United States. Recently, she has premiered Erik Nielsen's Sonata for Viola and Piano and Little Suite for Solo Viola and Dennis Bathory-Kitsz's Solo Sonata, all of these works written specifically for her. She is looking forward to premiering new works by Vermont composers Jacob Morton-Black, Patricia Julien and Lydia Busler-Blais later this season.
She lives in Northfield, Vermont, with her husband and three sons.
{loadnavigation}