By Rachel Goff
"I always wanted to play the guitar when I was young," Tom Peterson said, "but my parents never had the financial resources."
And so last month Peterson, a custom furniture maker from Williamstown, gave two students at Harwood Union High School the opportunity to live out his childhood dream by giving them each one of his handmade electric guitars.
Peterson approached about half a dozen schools about donating his instruments and he chose to give them to Harwood because "they were really interested," he said. Harwood "understood what I wanted to do," Peterson said, which was simply to give a guitar to someone who would appreciate it.
The students who received Peterson's instruments, ninth-graders Abby Raegan and Chuntao Lin, had just completed a semester-long beginning guitar class. Trained on acoustic guitars, neither of them had ever played an electric version before, "but they were pretty excited to try it," Peterson said.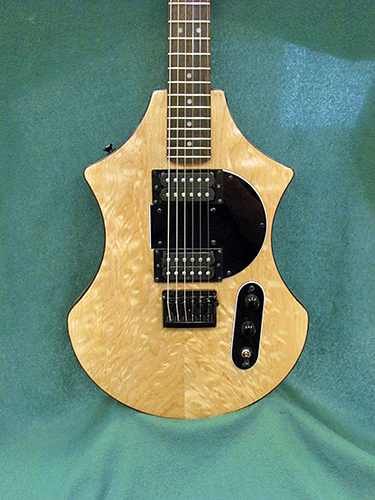 Peterson himself admits he can play "about two chords" on the guitar, "but I've found I have a talent for building [them]," he said. When Peterson first started making electric guitars years ago, he'd give them to experts to try to solicit their advice about how to alter the design, and "I've finally gotten to the point where people say they work pretty well," he said.
Peterson's favorite part about making electric guitars is "just thinking that someone's going to have some enjoyment playing them," he said, "and that it's going to become a part of their life." Made of African mahogany, his guitars are visually beautiful, but ultimately they're meant to be used.
"You have to put a guitar in someone's hands," Peterson said. "That's where it really belongs."
{loadnavigation}