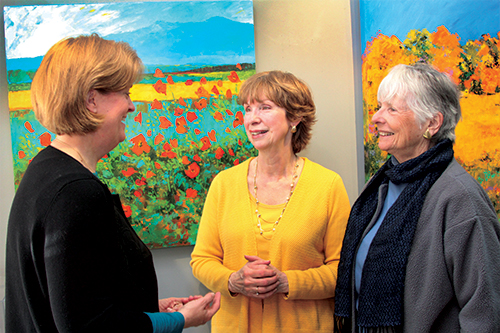 Over 50 people stopped by the Festival Gallery in Waitsfield on Sunday, March 9, to see Luminous Vermont and meet the artist Lorraine Manley. With the sun finally shining, the day outside was able to compete with the bright and beautiful paintings on the walls. People enjoyed viewing these colorful paintings of Vermont landscapes.
"Everyone who has seen her landscapes is immediately excited by the impressionistic and abstract qualities of the paintings," said Karen Nevin of Valley Arts Foundation. "There is a luminous quality to her work; the paintings radiate heat and warmth with her fabulous use of color. We've really enjoyed hosting her show."
Guests were able to view the paintings and discuss them with Manley. She is a fourth-generation Vermonter who graduated from the University of Vermont and lives in Milton. Along with local guests, people came from Milton and Burlington to see the show.
Luminous Vermont runs through the end of March. Next up at the Festival Gallery is the Members' Show. Twenty-four artists who are members of Valley Arts Foundation will be exhibiting their work. Paintings, photography, linocuts, weaving, jewelry and fiber arts will all be on display. It promises to be a fun and eclectic exhibit!
The Festival Gallery is located at 2 Village Square, Waitsfield. For more information call (802) 496-6682 or email This email address is being protected from spambots. You need JavaScript enabled to view it..
{loadnavigation}