After seeing the growing success of the art shows in his red barn, George Schenk of Lareau Farm approached Dotty Kyle of the Big Red Barn Art Show and Gary Eckhart, board president of the Valley Arts Foundation, about renovating the barn to turn it into a year-round gallery and event space.
After the summer of 2013, representatives from both Lareau Farm and Valley Arts Foundation formed an exploratory group to begin preliminary discussions. The group has been meeting regularly since December. They envision creating the Valley Arts Center, which would become the permanent home of the Valley Arts Foundation.
The Valley Arts Center, although still very much on the drawing board, will likely include three galleries, an event space and room for art instruction for children and adults. The renovated barn would include improved storage and workshop space for American Flatbread as well.
For many years, Lareau Farm Inn has hosted the Big Red Barn Art Show in the barn adjacent to American Flatbread. This large barn provides a unique space to exhibit artwork, and draws 3,000 visitors to the art show each August. The art show has grown to become the largest and most popular of Vermont Festival of the Arts events. With the addition of Valley Arts Foundation's Green Mountain Watercolor Exhibition in July, the big red barn has become one of the go-to places to view art in The Valley during the summer.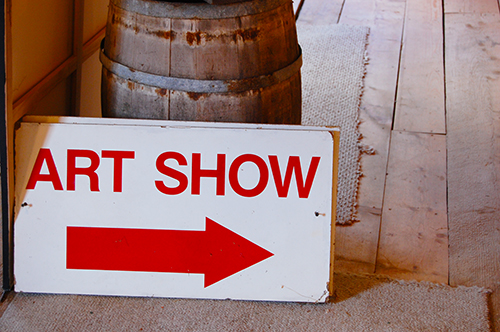 Lareau Farm is one of the Mad River Valley's first farms, established in 1794 by Simeon and Abiah Stoddard (Waitsfield's first physician). The original farmhouse is now the inn. In 1895, the big red barn was constructed to house Pliny Lockwood's dairy operation. Preserving the barn is a top priority for Schenk. "It is a beautiful Vermont barn prominently located on Route 100 with a rich history in The Valley. I want to make sure it is standing for years to come," said George Schenk. "Collaborating with Valley Arts Foundation to renovate and repurpose the barn makes great sense."
"This collaboration is unique and would benefit both sides well. We've started to dream a little bigger," said Karen Nevin, director of Valley Arts Foundation.
"We have received many requests for workshop and classroom space for arts-related activities, as well as for gallery shows, but we currently do not have a big enough space. An arts center in the Lareau Farm barn would allow us to provide workshops for adults and children, present a wide range of exhibits and, most importantly, support the artists of all ages in our community in a space familiar to everyone in The Valley."
{loadnavigation}