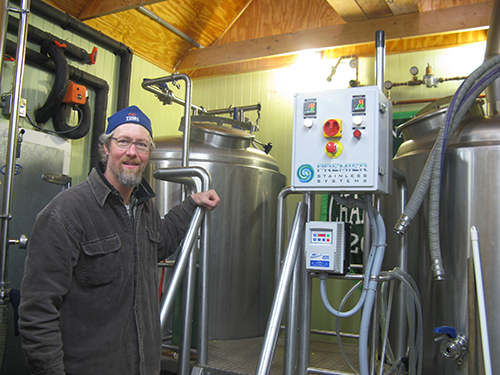 By Rachel Goff

As the home of Lawson's Finest Liquids and the heart of Heady Topper distribution, The Valley owes much of its identity to the burgeoning craft beer industry. So last week, when Crosspoint Associates, the company that owns Mad River Green Shopping Center in Waitsfield, spoke of setbacks to plans for opening a new brewery downtown, The Valley Reporter took a look at what it actually takes to make a pale ale in an area that—on the surface at least—seems so hop-friendly.

This past December, the Waitsfield Development Review Board (DRB) approved an application for Canteen Brewery, a self-service restaurant with an onsite brewing system proposed by local chef Charlie Menard and Montreal-based brewer Andrew Davis. Canteen Brewery would occupy the space vacated by Jay's Restaurant in Mad River Green Shopping Center, but in the month's following the application's approval, Crosspoint found that the shopping center's wastewater treatment system isn't equipped to deal with the high-strength effluent a brewery would produce.

Canteen Brewery would operate on a seven-barrel system, brewing 400 barrels a year. For comparison, The Alchemist Brewery in Waterbury currently operates on a 15-barrel system and brews 180 barrels a week. But regardless of size, "brewing is not a low-impact process," The Alchemist co-owner Jen Kimmich said.

Breweries go through a large amount of water—the main ingredient in beer—but what's even more important than the water that goes into the beer is the water that goes down the drain after the tanks are washed out, Kimmich explained. That water "is full of live organisms that can really wreak havoc on a wastewater treatment system," she said. The organisms aren't anything unnatural, Kimmich explained, but they alter the composition of the flora and fauna that are essential for purifying water in a treatment system.

Larger breweries deal with the effects of high-strength effluent by building their own wastewater treatment systems on site, but for many smaller brewers, that option is cost-prohibitive. Instead, there are ways to treat the waste on site before sending it to a municipal system, such as putting it through a digester.

The Alchemist separates all of the bio solids out of the water from its tanks before it goes into Waterbury's municipal wastewater system and sends them to Grow Compost, an organic composting facility in Moretown. The whole process is "a huge undertaking," Kimmich said, but "we're just trying to think outside the box."

By being creative, The Alchemist has figured out a way to operate a brewery in Waterbury, begging the question: Could the same be done in Waitsfield?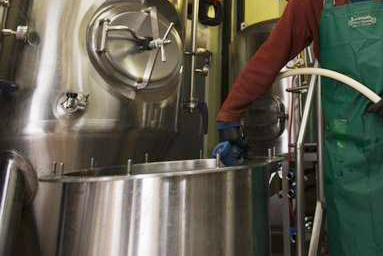 Unlike Waterbury, Waitsfield does not have a municipal wastewater treatment system. Instead, Mad River Green Shopping Center has its own indirect discharge wastewater treatment system—an arrangement so old that it cannot be updated to accommodate Canteen Brewery. Instead it would have to be replaced, "and based on the age of our system and what that would entail, that wasn't really feasible," Crosspoint Associates asset manager Kerry McCormack said.

In terms of wastewater treatment, Waitsfield has wavered a lot in recent years, first drawing up plans for a single, large municipal system and then voting not to move forward with construction. Currently, the town has money specifically allocated for small-scale decentralized wastewater treatment system updates, but few property owners have taken advantage of the loan program.

Kimmich, who is currently looking with her husband and Alchemist co-owner John Kimmich for a site at which to open a second brewery, knows which ones can accommodate the operation and which ones can't. When starting a brewery, "you want to look for towns with significant wastewater treatment systems," Kimmich said. "One of them that jumps out to me is Richmond," she said, which has invested a lot of money in updates to its system in recent years.

Unfortunately, a lot of towns in Vermont "just don't have the resources" to update their wastewater treatment systems, Kimmich said, or the foresight to allocate resources toward updates that could attract businesses and bring in a lot of revenue in the long term.

According to Mad River Valley Chamber of Commerce marketing director Lisa Davis, "There is no doubt that a brewery in The Valley … would be a huge economic driver for the community."

This past year, the chamber developed a "Bed & Brew" package that offers deals on lodging and brewery tours to visitors. The first Bed & Brew Tour took place this past November, during a time when tourism is at a low in The Valley, "and it sold out," Davis explained. Of the 29 people who signed up for the tour, 14 of them had never been to the area before. "They literally came for the beer," she said.

At a Vermont Downtown Action Team (V-DAT) meeting that took place in Waitsfield this past fall, many residents expressed a desire to attract more businesses to the area that would in turn attract more visitors.

Wastewater permits from the state of Vermont show that the building which formerly housed Egan's Big World on the corner of Route 100 and Route 17 has the capacity of handling 4,950 gallons of wastewater a day. That breaks down to 4,500 gallons a day for the restaurant at 30 gallons for each of the 150 seats, 150 gallons a day for 10 restaurant employees and 300 gallons a day for the two-bedroom apartment.

Just down the road from Mad River Green Shopping Center, Mad River Industrial Park off Route 100 in Waitsfield has space to accommodate new businesses, "and we would build infrastructure … for the specific needs of the tenant," Jim Despres, project manager for Kingsbury Construction and the park, said.
{loadnavigation}