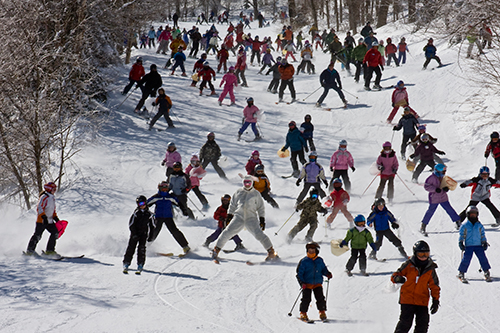 By Rachel Goff
At the annual Mad River Glen shareholder meeting that took place on Saturday, April 5, co-op members came together to discuss the past and the future of the ski area, focusing mainly on one aspect of mountain operations that could extend its season: snowmaking.
Currently, Mad River Glen makes enough snow to maintain the base area and lower elevation run-outs, relying on "very basic, bare bones, simplistic and antiquated infrastructure," president Jamey Wimble said.
Due to limited snowmaking, Mad River Glen was forced to close for much of this past January when temperatures warmed and the real white stuff melted, while other ski areas with more advanced infrastructure were able to remain open.
If Mad River Glen were to expand its snowmaking to help the ski area get through low-snow periods without closing, Wimble explained, the first priority would be to make snow on "trouble areas" that can restrict access to mid-mountain skiing, including the trail Porcupine and part of the way up Bunny.
The second priority would be to make snow up to the top of the Sunnyside Double chairlift and to the midstation at the Single Chair. According to Wimble, "It wouldn't really take much more to give us the capability of running two lifts." Lastly, Mad River Glen would look to expand snowmaking to the Birdland area on the northern side of the mountain.
PHYSICAL LIMITATIONS
While many Mad River Glen lovers laud the mountain's all-natural snow, the ski area "did not reject snowmaking over the years because of an anti-snowmaking philosophy, per se," explains a report published on the co-op's website. Instead, the mountain "developed as it did due to the economic realities of the ski area and what the costs of the system would entail. Several engineering studies and site reviews were done to assess the potential for snowmaking upgrades, but a feasible solution was never found."
According to Wimble, the main physical and regulatory limitation to expanding Mad River Glen's snowmaking is water.
Right now, Mad River Glen makes snow on 15 acres of trails, which requires roughly 2.6 million gallons of water per foot of snow. If the mountain were to expand its snowmaking operations to cover all three priority areas Wimble identified—64 acres in total—it would need 32 million gallons of water each season.
Currently, Mad River Glen sources its water for snowmaking from the Mill Brook, whose flow diminishes as it freezes over the winter. The mountain is limited by what water is available at the time, as it has no place to store water for future use.
If Mad River Glen were to expand snowmaking, the ski area would have to look for other significant water sources, Wimble said. He identified a high-yielding well at the top of the Appalachian Gap that could increase the mountain's snowmaking capacity, but Mad River Glen's water rights to that well as of now are "unproven," he said.
If the mountain were able to tap into the well, it would still need a place to store the water, as state laws prohibit direct withdrawal from underground sources without rigorous testing over time. Mad River Glen has looked into places to install a snowmaking pond, but the mountain "is a big, giant rock," Wimble said, leaving little to no possibilities.
FINANCIAL LIMITATIONS
And then, there's the question of how much expanding snowmaking would cost. Right now, "our whopping budget for snowmaking is about $9,500," Wimble said. Making snow up to the top of the Sunnyside Double would cost an estimated $350,000 a year, in addition to a base capital cost of $6.2 million to install a storage system and more advanced infrastructure.
While shareholders were optimistic about Mad River Glen's ability to raise the money, they first wondered whether expanding snowmaking would solve the mountain's financial problems.
As reported at the beginning of the meeting by Board of Trustees treasurer Roy Liu, Mad River Glen estimates a negative $92,000 net operating income coming out of this season. Skier visits were down 9 percent from last year, which "was not exactly a year to write home about either," Liu said.
The snowmaking report published on the co-op's website states that Mad River Glen has seen an average net operating income of $100,000 over the past 17 seasons of shareholder ownership. Since expanded snowmaking would cost about $350,000 a year, "in an average year the co-op could expect to lose $250,000 a year at the current sales volume," it read.
While expanded snowmaking could increase Mad River Glen's sales volume by drawing more skiers to the mountain, the facility would still be limited by parking and chairlift capacity, Wimble explained, and Mad River Glen would have to increase ticket and pass prices to pay for its increased operating costs.
Expanding snowmaking would put a strain on the mountain's finances, but not expanding snowmaking could hurt Mad River Glen even more, co-op members agreed. If the ski area has to keep closing for stretches of winter like it did this past January, "my concern is that some people will stop buying season passes," one shareholder said.
Indeed, the last three years have been "subpar," Wimble said, in terms of snowfall and skier visits, and because of that, "our cash cushion is eroding," he said. At the same time, however, Mad River Glen has put money into a developing a master plan and the mountain is being proactive about its future, Wimble said.
The cooperative's investigation into expanding snowmaking falls under those plans for the future, and Mad River Glen has formed a Snowmaking Exploratory Committee (SEC) that—in addition to the expansion outlined above—is looking into other ways to extend its season, including improving trail surfaces so that they are skiable on less snow.
While some shareholders expressed apprehension at altering Mad River Glen's terrain, which traditionally has attracted skiers seeking a challenge, Wimble explained that the work would include mostly improving erosion controls and would not change the trails themselves.
At the same time, however, one shareholder said that the mountain's reputation as challenging may be scaring away potential skiers who are unaware on Mad River Glen's easier trails and terrain options. In terms of marketing, "we need a kinder and gentler way to get our message out," she said.
Other shareholders showed appreciation for the mountain's decision to groom more terrain during tough conditions this past winter, including the grooming of half of some of the wider trails like Canyon, "to give people options," one shareholder said.
TIME LIMITATIONS?
While Mad River Glen explores its options, the ski area acknowledges that changing weather patterns are responsible for the mountain's increasingly unreliable snowpack. "A lot of people will ask, 'If we can't ski in 30 years, why make the changes?'" Wimble said. But, while the ski area acknowledges the reality of climate change, the general consensus among the co-op is to do what it can so people can "ski it if [they] can" for as long as they can.
In addition to asking shareholders, Mad River Glen is continuing to collect input from the public via a skier satisfaction survey linked to its website, madriverglen.com. Those interested can also visit the website to read the snowmaking report or to watch the video of this year's co-op meeting.
{loadnavigation}