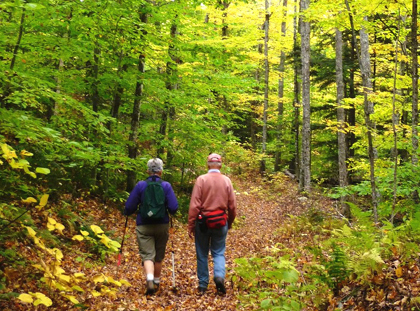 Green Mountain Club is urging hikers to stay off muddy and high-elevation trails unless they still have extensive snow or ice cover. High-elevation soils take until Memorial Day to dry out, especially on north slopes and evergreen-shaded trails.
In between spring showers many are ready to hit the trails after a long, cold winter. But even if yards are drying out, soils are still thawing at higher elevations. It takes time for mountain soils to dry out. Hiking trails on state lands managed by the Vermont Department of Forests, Parks and Recreation and Green Mountain Club are closed until Memorial Day weekend. Hikers are also strongly discouraged from using hiking trails in the Green Mountain National Forest until Memorial Day weekend. Generally, along the Long Trail, the national forest extends south from Mt. Ellen in Warren to Massachusetts, and the state parks and forests run north of Appalachian Gap in Buel's Gore to Canada – including more than 25,000 acres conserved by the Green Mountain Club.
"Please give our trails time to dry out for the summer hiking season," says Dave Hardy, director of trail programs for the Green Mountain Club. "Until the end of May, consider hiking on south facing slopes and lower elevations where the sun can dry out the trails sooner. And please stay on the trail rather than walking around puddles so the trails don't widen and create new erosion problems. Thank you for taking care of our trails!"
To find a list of suggested mud season hikes, visit www.GreenMountainClub.org.
{loadnavigation}