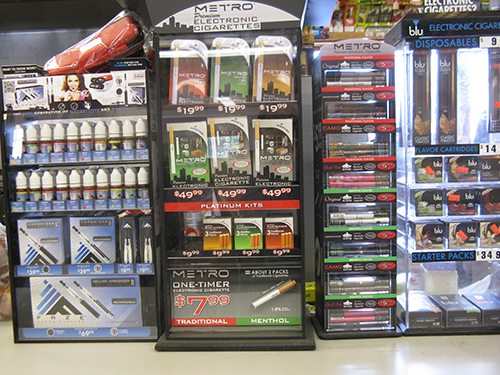 By Rachel Goff
A clear plastic display case sits on the counter of Moretown General Store bearing small cardboard boxes in varieties like Cherry Crush, Java Jolt and Vivid Vanilla. Upon first glance, one could easily mistake them for a pack of gum or mints, but they're not. They're e-cigarettes.
E-cigarettes, or electronic cigarettes, are battery-powered devices that heat a nicotine-laced liquid solution to produce a vapor that users inhale to simulate smoking. They come in all shapes and colors, with some designed to look like a cigarette, with a white and orange outer coating and a tip that glows red upon inhalation.
According to a report released by the Vermont Department of Health, the number of current smokers who have tried e-cigarettes at least once has increased from 9.8 to 21 percent between 2010 and 2011. As state and federal legislators work to create regulations controlling manufacturing and sales within the nearly $2 billion industry, The Valley Reporter looked into where one can buy e-cigarettes locally and—more importantly—whether anyone's buying them.
There are several locations throughout The Valley that sell e-cigarettes, including Moretown General Store in Moretown, the Gulf and Valero gas stations in Waitsfield and Mac's Market in Warren, and each location reports a different level of demand.
Moretown General Store has been carrying the Nicotek brand of e-cigarettes for a few years now. "When they first came out, they sold like hot cakes," manager Brad Seymour said, estimating that the store was selling between 10 and 20 disposable e-cigarettes a week. Disposable e-cigarettes range in price from $7.95 to $14.95 and claim to last for about 700 puffs.
Now, most people are buying refills for their e-cigarettes, Seymour said, as many brands have come out with rechargeable versions ranging from $14.95 to $49.95 for a starter kit and $9.95 to $14.95 for a pack of refills. Seymour estimates that there are "about a dozen" people in Moretown who regularly purchase refills.
In other stores throughout The Valley, e-cigarette sales are few and far between. At the Champlain Farms Gulf gas station, which carries four different varieties of both disposable and reusable e-cigarettes, "I have one customer who religiously buys the same thing every week," manager Krystal Sweeney said. "Other than that, not too many people buy them."
And at Mac's Market, in Warren, which carries one brand of disposable e-cigarettes, an employee estimates the store sells maybe one or two electronic devices a month. The Valero gas station in Waitsfield also sells just one brand of disposable e-cigarettes, and while manager Lynda Johnson said that sales have picked up in the past few months, "We're just kind of waiting to see what the state's going to do [in terms of regulations]," she said, before the store expands its offerings.
While e-cigarettes are not as popular in Vermont as they are in other states, some of which boast entire stores devoted to the electronic devices, the Green Mountain State is taking steps toward regulating them. In May of 2012, Vermont joined 11 other states in prohibiting the sale of e-cigarettes to minors. In stores across the state, e-cigarettes are kept behind the counter or in a locked case and cannot be purchased without direct assistance from an employee.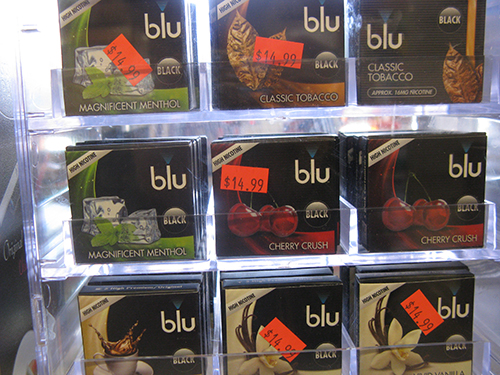 Currently, the health consequences of using e-cigarettes and breathing the vapors they give off are unknown. The electronic devices don't contain tobacco and, therefore, do not fall under the U.S. Food and Drug Administration's (FDA) regulations for cigarettes, so while the FDA prohibits flavors such as bubblegum and chocolate that appeal to children from being used in cigarettes, they can be—and are often—used in e-cigarettes.
E-cigarettes contain nicotine and manufacturers of the electronic devices claim that users can control the amount of the highly addictive substance that they put in their e-cigarettes as a means to quit smoking, but many have criticized the industry for marketing their product toward youth and getting them hooked on a new type of smoking, or "vaping." Indeed, the results of a National Youth and Tobacco Survey show that e-cigarette use among middle and high school students more than doubled, to 1.78 million users between 2011 and 2012.
Most e-cigarettes are manufactured in China and imported to the U.S., but some in-state entrepreneurs are getting in on the growing demand, including one Castleton-based company called Vermont Vapor. Vermont Vapor, like other e-cigarette companies, is experimenting with the flavors and nicotine levels in the liquid solutions used in e-cigarettes, and on its website it encourages cigarette users to "make the switch today, for as little as $65!"
But just last week, the FDA announced plans to regulate e-cigarettes as it regulates tobacco products, and cities such as New York and Chicago have already passed similar legislation. Other smoking apparatuses such as pipes and hookahs are also included in the FDA's plans, which would require manufacturers to place health warning labels on their products and disclose the ingredients. The regulations would also prohibit e-cigarette manufacturers from making health claims without scientific evidence.
In Vermont, one regulation up for consideration in the State House would impose a 92 percent tax on e-cigarettes, raising an estimated $500,000. The tax could generate a lot of revenue as well as discourage many from buying the vaporizers, which are already more expensive than their non-electronic counterparts.
At Moretown General Store, however, e-cigarette sales have not seemed to affect the sales of cigarettes and tobacco products as a whole, and Seymour said he has many customers who regularly purchase both. "A lot of people buy e-cigarettes because they want to quit smoking," Seymour said, but ultimately "it's not a replacement ... it's an alternative."
Next week The Valley Reporter looks at e-cigarettes in schools, restaurants, public buildings, spaces and events.
{loadnavigation}