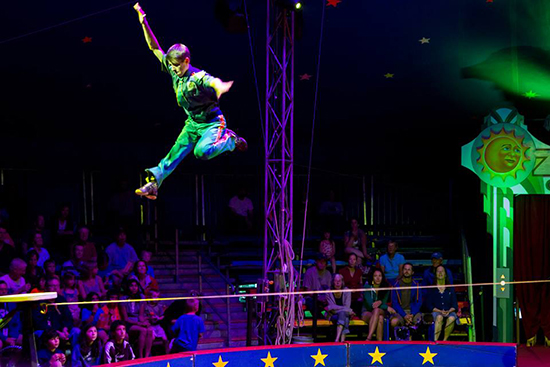 Seventeen-year-old Brin Schoellkopf of Warren is running off to join the circus again this summer. Schoellkopf's skills on tightwire, trampoline, acrobatics and juggling have won him a spot for a fourth summer on tour with Circus Smirkus, the award-winning, international, traveling youth circus based in Vermont. From early July through mid-August, the troupe will travel with its European-made big top tent to 15 venues throughout the Northeast and will perform nearly 70 individual shows. Circus Smirkus will be coming to the Essex Fairgrounds on July 8, 9, 10 and then again in Montpelier on August 10 through 13.
To see Schoellkopf, fans will have to come to the Essex shows as he has recently been accepted into the National Circus School in Montreal and will begin his four-year program on August 11.
Schoellkopf began studying gymnastics when he was 6 years old, says his mother, Beth Bins. Brig McCain, who has worked with a number of gymnastic academies in Central Vermont, has been his coach for 10 years.
"Brin can't say enough great things about Brig and the folks at the Central Vermont Gymnastics Academy where he has been working on his acrobatic skills. Brin has practiced his tightwire skills at NECCA (New England Center For Circus Arts) in Brattleboro. Brin also went to Circus Smirkus summer camps for four years where he learned to juggle, wire walk and clown around and where his love of circus blossomed," his mother recalled.
"Life on the road promises to be both fun and exhausting," said Schoellkopf. As a "Smirko," he will join his fellow troupers in doing such tasks as taking care of props, selling drinks and popcorn and working cooperatively with the tent crew, light and sound technicians, equipment riggers, costume designers, musicians and others who travel with the one-ring show. The payoff, he said, is being surrounded by other teens from all parts of the country and the world who bring their love of circus to each performance. This year's troupers hail from nine states – California, Florida, Illinois, Massachusetts, Minnesota, New Hampshire, New York, Vermont and Texas – and internationally from Mexico. Troupers' skills include juggling, wirewalking, clowning, acrobatics, aerials and unicycling and acts involving the diabolo, trapeze, cradle, Spanish web and lyra.
Over the years, Circus Smirkus has become known for its theme-based and "story" shows. Themes have included Pirates, the Wild West, and Superheroes, while stories have included original circus versions of Alice Through the Looking Glass and Pinocchio. This year's tour continues the tradition of theme-based shows with "Anchors Away for Atlantis," a circus-style journey on the high seas.
Schoellkopf has just completed his junior year at Harwood and will complete his graduation requirements online while in Montreal. This year he made the school's high honor roll and played third singles on the varsity tennis team. He has also been very involved in the Harwood art department taking many classes like advanced studio arts and photography.
For information and tickets, visit www.smirkus.org or call 1-877-SMIRKUS (1-877-764-7587). Tickets sell out at times so early purchase is advised.
{loadnavigation}