Waits Way, the newest section of the Mad River Path, is now open.
"Thanks to Brooke Scatchard and his team from Sinuosity: Flowing Trails for constructing Waits Way, the new half-mile 6-foot-wide, gravel-based trail in the Mad River Path Association trail system," path association board chair Laura Brines said.
She also thanked Mad River Path Association board members and the Concord, Massachusetts, high school soccer team for building the new bridge on Waits Way.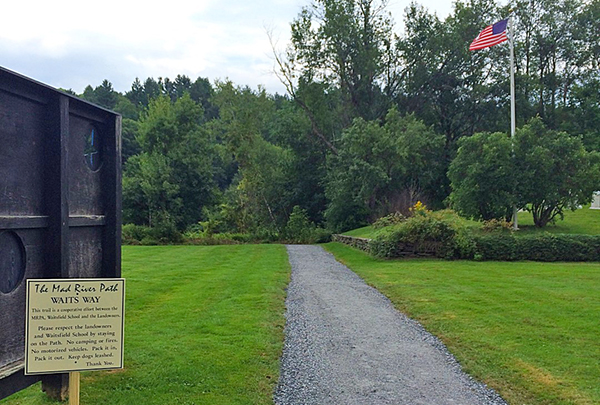 The path begins at the General Wait House, tucks behind Waitsfield Elementary School and continues north along the river side of the field until the turnaround spot near Route 100.
"It's ideal for walking, running and biking," Brines pointed out.
The Mad River Path Association reminded people to stay on the path and respect Waitsfield Elementary School and the private landowners adjoining the new section. Parking for the path is available at the General Wait House or Waitsfield Elementary School; or park along the sidewalk or one of the other path trails that connect with this new addition.
A grand opening celebration is being planned for the end of September. Waitsfield Elementary School is also planning celebrations of and along the path throughout the coming school year.
The Mad River Path Association is a member-supported, 501(c)(3) nonprofit organization whose mission is to build, maintain and conserve a system of public pathways from Warren to Moretown, fostering a healthy community by connecting the people, businesses and places of the Mad River Valley.