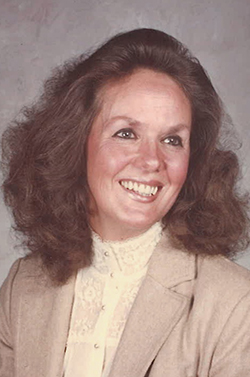 Claudette E. Collins, 77, a longtime resident of Waterbury, passed away in the comfort of her family at Fletcher Allen Health Care in Burlington on Sunday morning, November 9, 2014. Born in Burlington on August 1, 1937, she was the daughter of the late Edson Scott Slayton and Ruth (Hayden) Slayton. On November 27, 1954, she married William T. "Bill" Collins in Richmond. Bill predeceased Claudette on March 16, 2010.
Claudette attended schools in Richmond and then continued her education, graduating from O'Brien's School of Cosmetology in Burlington. In addition to staying busy raising her family and as a homemaker, Claudette worked outside the home throughout her life. In early years she was employed as a cosmetologist in Waterbury and Montpelier and later worked as a hostess for the former Holiday Inn in Waterbury for many years.
Seeking warmer climates following Bill's retirement, they made their home in Ramrod Key, FL, from 1986 to 1995 where she worked as a private housekeeper. Moving to Ocala, FL, Claudette worked as a clerk in addition to creating gift store displays for Cracker Barrel Restaurant. In 2004, she and Bill returned to Vermont to be closer to their family.
Claudette spent her life dedicated to her family, truly the most important aspect of her life. She found immense joy and appreciation for the ability to be actively involved in the care and lives of her grandchildren and great-grandchildren.
Claudette is loved and mourned by her children, Deborah Ann Collins of Burlington, Mari Collins Price of Middlebury, William T. Collins and his wife Jayne of Hardwick, Kevin Collins and his wife Tina of Waitsfield, Scott Collins and his wife Lori of Waterbury, Chris Collins and his wife Wendy of Brandon, FL; 14 grandchildren, Desiree, Jeswyn, Kevin, Michael, Codi, Tanner, Cassandra, Krysta, Riley, Andrew, Christian, Damian, Casey and Brooke; 4 great-grandchildren, Carson, Ayden, Josh and Julian; a sister, Claudine Spencer of Plainfield, NH; three sisters-in-law, Emily Ternavasio of Fort Lauderdale, FL, Patricia Russell of Rutland, Faye Collins Portway of St. Augustine, FL; as well as nieces, nephews and extended family. Claudette was predeceased by six siblings, Albert, Scott, Hayden, Sydney, Florilla and Daniel.
A Mass of Christian Burial will be celebrated from St. Andrew Catholic Church in Waterbury on Monday, November 17, 2014, at 11 a.m. with a reception to follow in the church parish hall. Inurnment will be in Holy Cross Cemetery in Duxbury. The family requests that in lieu of flowers, memorial gifts would be appreciated to Birchwood Terrace Nursing Home, Patient Activities Fund, 43 Starr Farm Road, Burlington, VT 05408. Assisting the family is Perkins-Parker Funeral Home and Cremation Service in Waterbury. To send online condolences visit www.perkinsparker.com and Facebook.
{loadnavigation}