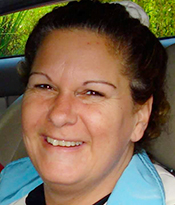 Kristina (Tina) Anne Marie Ostrander of Moretown, VT, passed away Thursday, January 25, 2018, at the VNA Respite House in Colchester, VT, in the comfort of her family following a courageous battle with cancer. Tina was born June 27, 1964, in Attleboro, MA, to Muriel M. (Courchesne) Ostrander and the late Abram H. Ostrander. Tina attended Attleboro High School in Massachusetts. After moving to Vermont, Tina worked at Simon's in Montpelier, Jiffy Mart in Essex Junction and Kinney Drugs in Waitsfield.
Tina was predeceased by her sister, Kathryn A.M. Roberts. Tina is survived by her partner of 10 years, Kim Fitzgerald, Moretown, VT; her son, Hunter J. Wilkinson, Moretown, VT; her sister, Richelle A.M. Otovic, South Carolina; her sister, Sheelah A.M. Collins, Rhode Island; her brother, Barry A. M. Ostrander, Florida; and Hunter's father, James Wilkinson; as well as nephews, aunts, uncles and cousins and great nieces and many, many friends.
A memorial service will be held on Saturday, February 17, 2018, at 1 p.m. at Green Mountain Community Alliance Church, 4987 VT 100, Duxbury, VT 05676. A celebration of Tina's life will follow at the Moretown Town Hall, 1147 Route 100B, Moretown, VT 05660.
In lieu of flowers Tina's family would like to request that contributions be made in her memory to the VNA Respite House, 3113 Roosevelt Highway, Colchester, VT 05446.