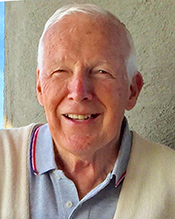 Clive M. Coutts, 86, passed away peacefully in the comfort of his home and family on Tuesday morning, January 30, 2018. Born in Morristown, NJ, on November 8, 1931, he was the son of the late Robert L. and Beatrice (Muchmore) Coutts. On June 4, 1983, Clive married Tracey (Brennan) Coutts in Morristown, NJ.
Clive was a graduate of Morristown (NJ) High School and continued his education at Middlebury College in Middlebury, VT, graduating in 1955 with his degree in political science. Following college, Clive joined the family insurance/real estate agency, Robert Lloyd Coutts and Sons, in Morristown, NJ, where, as broker, he owned and operated the real estate office until his retirement in 1990. Clive followed his love of building by renovating/constructing numerous buildings in the Morristown area. In 1990, he and his wife moved to Waitsfield, VT, where they purchased and renovated an old farmhouse into the Featherbed Inn, which they ran until 2004.
During his years in Morristown, Clive was an active volunteer with the Independent Hose Company, Morristown Fire Bureau, achieving the rank of volunteer fire chief. In addition, he was an active member of the Morristown Lions Club and lifelong member of the Morristown Methodist Church and choir as well as serving in many positions within the church. After moving to Waitsfield, he became an active associate member of Waitsfield United Church of Christ and continued his love for singing through the church choir. His love for music extended beyond his church choirs, having been a member of the Middlebury a cappella choir and various choruses both in Morristown and Waitsfield. In addition, he was an accomplished piano player.
Clive is loved and mourned by his wife, Tracey Coutts of Waitsfield, VT; his children, Heather Cannestro and her husband Jim, and their children, Jenna Spautz and her husband Danny, and their children Harper and Brynleigh, Kara Robinson and her husband Andy, and Emily Cannestro; Clive M. Coutts Jr. and his wife Susan, and their children, Kayla and Kyler Coutts; David W. Coutts and his wife Agneta, and their children, Sara, Harrison, and Christopher Coutts; Steven E. Coutts and his wife Denise, and their children, R. Michael Maus, Hannah and Gabriella Coutts; his stepdaughter, Sharon L. Fielding, and her children, Travis and Alexandra Fielding; his stepsons, T. Wayne Stefanovich and his wife Nicole, Erich S. Stefanovich and his wife Robin; a brother, Glenn K. Coutts and his wife Eleanor; as well as nieces, nephews and extended family.
A service celebrating the life of Clive Coutts will be held from Waitsfield (VT) United Church of Christ on February 10, 2018, at 11 a.m. with a reception to follow in the church Fellowship Hall.
Interment will take place in Evergreen Cemetery in Morristown, NJ, on March 17, 2018, at noon with a reception to follow the committal at Morristown United Methodist Church. The family requests that in lieu of flowers, memorial gifts would be appreciated to Waitsfield United Church of Christ, P.O. Box 16, Waitsfield, VT 05673, to Central Vermont Home Health and Hospice, 600 Granger Road, Barre, VT 05641 (www.cvhhh.org), or Morristown United Methodist Church, 50 South Park Place, Morristown, NJ 07960.
Assisting the family is Perkins-Parker Funeral Home and Cremation Service in Waterbury, VT. To send online condolences visit www.perkinsparker.com.