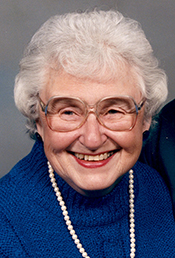 Lois Knight Sabin, 93, passed away on Sunday, March 4, 2018, at Spring Village in Essex, where she had been a resident since 2017. Lois Athalee Knight was born on June 3, 1924, in Skowhegan, Maine, the only child of Jacob Stillman Knight and Arlene Clark Knight. She arrived in Waterbury, VT, in 1936 when her father was hired to work on the Little River dam project.
Waterbury was the hometown she chose to settle in. Lois was active in music, drama and sports at her beloved Waterbury High School. Her greatest talent and passion was basketball. As a member of the 1940 girls' championship team, she was designated as Vermont's Outstanding Player of the Year by both coaches and referees.
After graduating from Waterbury High School in 1941, Lois enrolled in the five-year nursing program at Simmons College in Boston, MA, graduating in 1946. Lois married Kenneth Sabin, her high school sweetheart, on January 19, 1946, at the Waterbury Congregational Church. Kenneth passed away on January 19, 2008, on their 62nd wedding anniversary.
Lois' 20-year nursing career was in the field of nursing education at the Vermont State Hospital (VSH) in Waterbury. As the director of nursing education, she was instrumental in the development of a psychiatric technician curriculum which was accepted at the Community College of Vermont. Lois acquired her master's degree and became the nursing administrator at VSH for five years during the time of the deinstitutionalization of the hospital.
After retirement in 1984, Lois pursued activities in her community. She was a proud member of the Waterbury High School Alumni Association. She volunteered at the Waterbury Historical Society where she helped inventory the society's collection and also served as co-president for nine years. Lois used her creative talents as a member of Circle 2 at the Waterbury Congregational Church. It was her pleasure to compose numerous thank you notes to donors to the Waterbury Area Food Shelf for a number of years.
Lois' greatest attribute was her love for and devotion to her family. She delighted in hosting many wonderful Sabin family celebrations, using her flare for decoration to enhance every special occasion.
Lois is survived by her son, Kenneth Earl Sabin Jr. (Jay) and his partner Nicki Davis Bruleigh; her daughter, Jane Willard and spouse Rev. Paul Willard; grandchildren, Tara Russ, Teal Busteed, Ethan Willard; and step-grandchildren, Christopher and Jonathan Willard and Meagan Ballou. Lois was the very proud great-grandmother to Eliza, Eli and Isaac Russ and Fletcher Busteed. She is also survived by her many dear-to-her nieces and nephews. She was predeceased by her grandson-in-law, Roger Busteed, and her step-granddaughter, Christine Perry.
Lois' family wishes to thank the staff at Pillsbury Gazebo Apartments, Spring Village Memory Care Home and the VNA Palliative/Hospice Care team for the extraordinary care they provided.
A family-led memorial service will be held on March 24, 2018, at 11 a.m. from the Waterbury Congregational Church UCC with a reception to follow. In lieu of flowers, memorial gifts would be appreciated in honor of Lois Sabin's service to the Waterbury Historical Society, P.O. Box 708, Waterbury, VT 05676. Assisting the family is Perkins-Parker Funeral Home and Cremation Service in Waterbury. To send online condolences please visit www.perkinsparker.com.