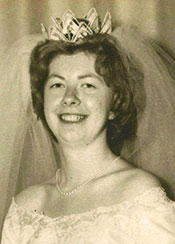 Ruthann Ryan, 78, of Main Street in Warren, passed away on February 16, 2018, with loving support of family, the staff of Berlin Health & Rehab Center and Bayada Hospice.
She was born on January 24, 1940, in Somerville, MA, the daughter of Samuel M. and Janet (Valentine) Young. She grew up in Somerville, MA.
On November 10, 1962, she married Lawrence Henry Ryan Jr. in Cambridge, MA.
Ruthann graduated from Bridgewater State College in Massachusetts with a degree in early education and taught preschool and kindergarten in Massachusetts. She also taught in the Republic of China for two years when her husband's job took them there. Ruthann moved to Vermont in 1990 and opened a gift shop that sold the best items made by Vermont artists. This was a labor of love for many years.
She was a lifelong member of the Salvation Army church attending services in Burlington, Vermont.
She is survived by her husband, Larry Ryan of Warren; her son, Gregory; grandchildren, Marc Maynard, Benjamin Bradford Ryan, Nathaniel Tripp Ryan and Cassandra Ryan; great-grandchild, Gavin Glenn Armstrong; sister, Florence and her husband Edward Forster; and many nieces and nephews.
She was predeceased by her parents; a daughter, Christina; and brothers, John, Bruce and Robert.
Through the years she held several lay leadership positions with the Salvation Army in Somerville, Brockton and Lowell, MA, as well as in Barre and Burlington, VT.
Honoring Ruthann's request for a "natural burial," she will be buried at Meetinghouse Hill Cemetery in West Brattleboro, Vermont.
There will be no viewing. A memorial service will be held in the spring in Massachusetts.