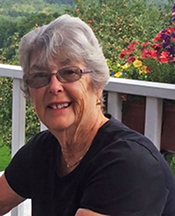 Audrey Bingham Witschi, living in Warren, VT, passed peacefully on April 25, 2018, at the age of 82. Audrey is survived by four loving daughters, seven grandchildren that she adored, two loving brothers with all their families, and the father of her children.
Family was so very important to Audrey and she taught us all about grace, dignity and humor. Audrey inspired everyone she touched as a mother, sister, grandmother, friend and an adventurer, always with a smile and full of compassion. A lifelong learner, she was a world traveler, fierce tennis player, skilled skier, lover of books, spelling bee champion, crossword wizard and gourmet cook. Audrey loved the arts: music, theater, art museums.
Audrey grew up in Buffalo, NY, and attended college in the area. After college, she toured postwar Europe as part of a theater troupe, an experience that showcased her acting talents and ignited her love of travel. She then worked as a lab technician until starting her family and new adventures. After residing in Mattituck, NY, while managing her family, many animals and a medical practice, Audrey "retired" to VT. A dedicated philanthropist, both locally and globally, she volunteered and contributed to countless organizations. Audrey was a leader in the community as the president of the Mad River Valley Rotary Club and the president of her condominium association. Audrey was a guiding beacon for her family and friends as she showed us how to be kind, elegant and to love life.
In lieu of flowers, contributions to Mad River Valley Community Fund (www.mrvcommunityfund.org) or the High Fives Foundation (www.highfivesfoundation.com) would be appreciated. There will be a community celebration of Audrey's life on Sunday, June 10, 2018, at the Mad River Barn (www.madriverbarn.com) from 2 to 6 p.m. To send online condolences visit www.perkinsparker.com.