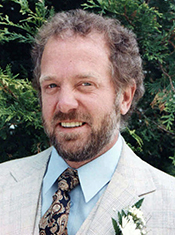 December 9, 1939–May 1, 2018
John Dobler Winchell, 78, died peacefully on May 1, 2018, with his son, Jim, at his side. John was born on December 9, 1939, in Hackensack, New Jersey, to Edgar Bliss Winchell (known as Bliss) and Margaret Louise (Dobler) Winchell of Ridgewood, New Jersey. John was a middle child with an older sister and a younger brother. John graduated from Ridgewood High School in 1957. John maintained contact with many of his high school classmates, some of whom we still see frequently and count on as truly wonderful friends. After attending Miami University, John returned to Ridgewood to join the family retail business, Winchell's. Those with ties to northern New Jersey may remember a trip to Winchell's for silver, china or quality gifts at Christmas. John joined Kiwanis and was elected as the youngest president in Ridgewood club history. John was proud of his efforts to beautify the downtown and increase retail activity. After Winchell's closed in 1975, John became a real estate broker for residential properties in the area.
Shortly after discovering the joys of skiing, in 1968 John invested in a condo at Sugarbush which he owned until the 1990s. In 1986, John lit off in his father's aging motor home for a trip around the U.S. He traveled mainly on secondary roads and enjoyed the West from Frasier Canyon to the Grand Canyon. The trip was capped off when the Mets beat the Red Sox in the World Series. Whilst at Sugarbush to update his condo, he met Karen Helmboldt and moved to The Valley permanently. They were married in June 1988 and both were looking forward to a 30th anniversary.
John loved carpentry and woodworking and served as his own GC and lead carpenter building the Winchell's house in Fayston in 1991. Great love was reserved for the family dogs and John still choked up at the mention of the loss of Harvey, a shepherd mix, in 2000.
John is survived by his wife, Karen, and two sons, Jeffrey Winchell of Gainesville, Florida, and James Winchell of Denver, Colorado. He was predeceased by a son, Robert Winchell of Fort Lauderdale, Florida. The three sons gave him a total of seven grandchildren.
A gathering for John's friends and family will be planned for later in June to celebrate John's life. There will be no other services.