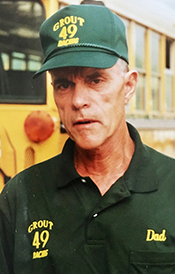 Beverlee "Bev" Howard Grout, 84, passed away unexpectedly but doing what he loved, tending his cattle in his barn, on Thursday afternoon, May 3, 2018. Born in Duxbury on December 10, 1933, he was the son of the late Frederick and Freda (Morse) Grout. On July 21, 1962, he married the former Julia Cheney in Waterbury.
Bev was a 1952 graduate of Waterbury High School and continued his education at the Vermont School of Agriculture (now VTC) in Randolph Center earning his associate degree in agriculture. Following graduation, Bev took a position at the Vermont State Hospital Farm in Duxbury where he was employed as a herdsman and equipment operator for several years. With the growth and employment opportunities offered by IBM in Essex Jct., Bev went to work there and spent the next 27 years in equipment maintenance and repair. Taking an early retirement buyout from IBM and not one to be idle, Bev worked as a bus driver for Harwood Union High School and retired following 17 years of service. In addition, Bev's lifelong interest and love for farming found him raising and selling Hereford's from his farm in Duxbury for many years.
Bev was a member of the Duxbury Historical Society and he served his community as a member of the select board for several years. He also served his country as a member of the U.S. Army.
In his leisure time, he enjoyed watching his son Kris stock car race at Thunder Road and being a member of his pit crew, spending time at camp with family at Abel Mountain in Braintree and going for long rides on Vermont's country roads. But, most of all, Bev loved his family and cherished his time with his grandchildren.
Bev is loved and mourned by his wife of 56 years, Julia Grout of Duxbury; their son, Kris Grout and his wife Kasey of Duxbury; his five grandchildren, Shelby Grout, Jordan Grout, Brian Grout, Alexis Huckins and Jacob Huckins; as well as extended family. Bev was predeceased by his son Karl Grout on June 24, 1982, and a brother, Harold Grout.
A service celebrating the life of Beverlee Grout will be held from Green Mountain Community Alliance Church in Duxbury on Thursday, May 10, 2018, at 11 a.m. with a reception to follow at the church. Private inurnment will take place in Phillips Cemetery, Duxbury. For those who wish, memorial gifts would be appreciated to the Waterbury Ambulance Service, P.O. Box 95, Waterbury Center, VT 05677. Assisting the family is Perkins-Parker Funeral Home and Cremation Service in Waterbury. To send online condolences visit www.perkinsparker.com.