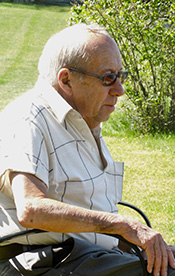 G. Wendell Parker, 86, passed away in the comfort of his home and family on Sunday afternoon, May 27, 2018. Born in Randolph on May 21, 1932, he was the son of the late Arthur J. and Bessie L. (Blakely) Parker. On October 30, 1952, he married the former Evelyn Hayes in Waterbury Center.
Wendell was a graduate of Stowe High School and soon after he embarked on his long and successful electrical career. Working several years for electrical contractor Arlan Smith of Stowe, Wendell followed his own entrepreneurial spirit and founded G. W. Parker Electric. For over 50 years Wendell and his employees served the greater central Vermont region providing both residential and commercial electrical services built on a stellar reputation for quality workmanship.
An avid golfer, Wendell was a member and past president of the Blush Hill Country Club of Waterbury. His other memberships included the Montpelier Elks Club, Waterbury Rotary Club, the former Waterbury Jaycee's and Waterbury Congregational Church. A longtime antique car collector and restorer, he was an active member of the Vermont Automobile Enthusiasts. In his leisure time he enjoyed playing golf and spending time with family at his camp in Island Pond.
Wendell is loved and mourned by his wife of nearly 66 years, Evelyn H. Parker of Waterbury Center; their daughter, Pamela Dalley and her husband Michael; his grandchildren, Nicole Merchant and her husband Brian of Duxbury and Jason Dalley and his wife Sharon of Waterbury; and his great-grandchildren, Connor Dalley, Aiden Dalley, Riley Dalley, Parker Merchant and Taber Merchant, who welcomed his Poppie in heaven. Although Wendell had no siblings of his own, he was happy to have married into a large, close family. He is also survived by his sister-in-law, Katrina Durand, and many special nieces and nephews.
A celebration of G. W.'s life will be held from Waterbury Congregational Church on June 5, 2018, at 11 a.m. with a reception to follow in the church dining room. Inurnment will take place in the Maple Street Cemetery, Waterbury Center. In lieu of flowers, memorial gifts would be appreciated to the Taber Merchant Scholarship Fund (www.greenmountainperformingarts.org) or to Central Vermont Home Health and Hospice, 600 Granger Road, Barre VT 05641 (www.cvhhh.org). Assisting the family is Perkins-Parker Funeral Home and Cremation Service in Waterbury. To send online condolences visit www.perkinsparker.com.