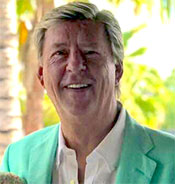 William Rexroat Seley, age 71, of Wellington, Florida, husband of Candra Hapgood Seley, passed away at his home suddenly and unexpectedly on Saturday evening of June, 2, 2018. "Rex" will be remembered by his daughter, Abbi Seley Ferrigno, her husband Rockman Ferrigno, MD, and daughter Isabella of Newtown, CT. Additionally, Rex will be remembered by his family, Brandy Blynn and her son Taylor, Hunter Seley, his wife Ana, son Cayson and daughter Hannah, Reginald Blynn, his wife Jaime and sons Sawyer and Jax, and Rex's sisters Suzanne of Revere, MA, and Martha Whitney and her husband Doug of Brevard, NC, his beloved nephews Drew Whitney of Reno, NV, Bart Whitney of Charlotte, NC, and Rex Whitney of Arlington, VA.
Born in Wichita, KS, and raised in Wayland, MA, he was the son of the late Lyman and Virvie Seley. He was a graduate of the University of Massachusetts at Amherst where he earned his degree in hotel and restaurant hospitality. Rex was a restaurant entrepreneur and developed numerous establishments including The Oyster Club with locations in MA and NH, The Old Oaken Bucket in Westford, MA, and the Woodshed near lake Winnipesauke, NH. In concert with his work in restaurant development, he additionally founded the Seley Parker Group 18 years ago, a business that specializes in wealth management and is associated with Bank of America Merrill Lynch.
Rex with his wife Candra resided in numerous locations, notable Boston and Harvard, MA; Bray's Island, in Sheldon, SC; Ford Plantation, Richmond Hill, GA; Waitsfield, VT, and most recently Wellington, FL. and Cullowhee, NC. Together Rex and Candra shared a talent and bond in beautifully designing and developing their homes along with their supporting and surrounding exterior landscaping and interior spaces.
Throughout the entirety of his life, Rex remained business focused and proudly worked full time with his business partner Josh Parker. He also balanced developing time for socializing and travel with friends and family and was very engaged with and participated in numerous activities with his family including fishing, bird hunting, golf, tennis, croquet, and boating and closely followed the pursuits and accomplishments of his family and grandchildren. All who knew Rex also knew his love of being well dressed, his love of dry humor and practical jokes and his ability above all, to remain a gentleman.
Rex will be sorely missed and his memory will be embraced by those whom he touched throughout his fruitful life.

Memorial contributions may be directed to: The May Institute 794 Broadway Revere, MA 02151.