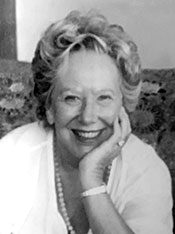 Sara Rohm Gadd, wife of the late L. Damon Gadd, died Sunday, July 22, 2018, at her home in Palm Beach, comforted by her two daughters. She was 90. Sara was born March 10 to Mary Zeth Rohm and Dr. Uriah Frank Rohm of Pittsburgh, Pennsylvania. Sara grew up in a medical family. Her father and two older brothers, Jackson and Robert, were doctors and surgeons. She attended and excelled at Winchester-Thurston School where she was editor of the Thistledown yearbook. Sara graduated as an English major from Vassar College in 1949. She married Damon Gadd (Yale 1949) in 1950 and joined his family in the Hawaiian Islands. Sara became a member of The Hawaii Newspaper Guild and was a reporter for the Honolulu Star Bulletin.
Traveling extensively worldwide making documentaries, Sara and her husband witnessed desperate living conditions suffered in many third world countries, inspiring Sara's lifelong passion for philanthropy, especially advocating for women's rights. A story about skiing in the East brought Sara and Damon to Vermont. They bought Ulla Lodge in Fayston and hosted skiers visiting The Valley.
In 1958, Sara and Damon Gadd opened Sugarbush Resort. It was a success born of a business and managerial partnership with their great friend Jack Murphy, enthusiastic investors, loyal employees and, of course, the spirited crowds of avid, young skiers. After years of fun and hard work among lifelong friends, in 1977, the Gadds sold their interest in Sugarbush. They revisited favorite places in Europe and eventually settled in Palm Beach. There, after her beloved husband died in 1993, Sara Gadd continued to raise awareness and funds for charities focusing on women's rights, social justice, education and medical research.
Sara Rohm Gadd is survived by her daughters, Megan Damon Gadd and husband Nathan Mudge Wilson and S. Victoria Gadd Eardensohn and husband Paul D. Eardensohn; grandchildren Alden Damon Eardensohn and Sara Zeth Eardensohn.
A memorial service will be scheduled at a later date.