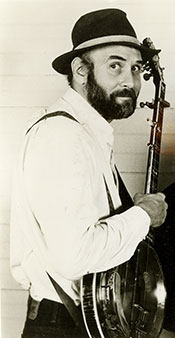 Michael R. Lussen of Warren died peacefully at his home on June 21, 2018, cared for by those he loved. He is mourned by his wife, Lisa Miserendino of Warren; his sister, Cathy Howard of Colorado Springs, CO; and his brother and sister-in-law, Tom and Cecelia Lussen of New Braunfels, TX. His parents, Alice and John Lussen; as well as his brother, Charlie Lussen, who predeceased him. His extended family of sisters and brothers-in-law, stepsons, and his step-grandchildren, who named him Big Mike, miss him dearly.
Mike was born in Vernon, Texas, on June 24, 1944, and moved from there to grow up and attend high school in New Jersey. He graduated from New Jersey Teacher's College after studying to be an English teacher, acting in plays and writing for the newspaper. It was during his high school and college years that he developed his love for folk music, particularly the banjo, performing with his friend John Masterson and various folk groups. In his sophomore year he traveled to Selma, Alabama, as part of the Freedom Summer, which reinforced his belief in freedom and justice for everyone. Singing was part of that journey.
A tour in the Navy where he traveled to Italy, Spain, Greece and Malta inspired his early songwriting. After the Navy, Mike went on to work with various bands including the Irish band Trinity II, and the duo McBride and Lussen. They were regulars in Greenwich Village and the greater New York area during the resurgence of folk music in the 1960s and '70s.
Mike moved to Vermont in the 1980s where he joined the folk group Woods Tea Company, writing new songs and interpreting both new and traditional folk tunes, sea shanties and Celtic songs. For several years beginning in the 1990s, Mike appeared with Woods Tea for performances at the Warren Town Hall. Mike loved the banjo and believed you could never have too many. He was a multi-instrumentalist, skilled on the guitar, Irish bouzouki, Appalachian dulcimer, bodhran and ukulele.
After 25 years of touring, Mike retired from Woods Tea. He kept his talents closer to home when he joined the folk group Woodchuck's Revenge, playing in venues throughout Vermont. During this time, he and his longtime friend, Hugh McBride, reprised their duo in local performances. He was always ready to play his banjo and did so for presentations of an original play by his friend Ron Powers. Mike continued to bring his music to many gatherings of family and friends where he always had the right song for the occasion.
In addition to folk music, Mike loved classical music, followed politics, and was a history buff and a fan of standup comedy. He will be remembered by his family, dear friends, bandmates and fans for his gift of music, dry wit, quiet nature and love of home.
A gathering will be held to remember Mike at a date to be announced.
If you wish, donations in his memory may be made to the Mad River Valley Ambulance Service in Waitsfield, Vermont.