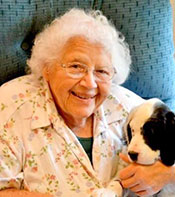 Rebecca (Becky) T. Higgins, 93, a lifelong resident of Waterbury, passed away on Friday, August 10, 2018, at Mayo Healthcare Center in Northfield. Born in Waterbury on November 24, 1924, she was the daughter of the late Earl M. and Theda M. (Wellman) Twombly. Becky grew up on Union Street with her fun loving father, her very proper English mother, and two older sisters, Emily and Pinky (Priscilla). She graduated from Waterbury High School in 1942.
In the midst of WWII, Becky met and fell in love with Cleland Ray (Ray) Higgins Jr. After a brief courtship of only three dates, Ray went off to serve his country. Becky began working at a local drug store, followed by National Life Insurance Company, and eventually took a job at the Times Argus newspaper overseeing the paperboys. On Ray's second leave home, before being shipped overseas, he and Becky traveled to New York City to be married. Ray predeceased Becky in 1974.
After the war Becky and her husband settled in Waterbury, in a small Union Street apartment above Becky's parents, where the couple welcomed their first two children. Shortly after, Becky and her growing family moved to Blush Hill where they purchased a house and large barn and welcomed three new children.
Becky was kept busy raising her family and later developed a passion for antiquing which led to the establishment of Upland Acres Antiques, which Becky ran from the large barn at her home. Her love of antiquing led to another one of her joys, traveling. This took her on adventures to Canada, Italy and England in her search for antiques.
Becky also traveled to Australia and New Zealand, most all of Europe, Israel, Alaska and many states in the U.S. In addition to traveling Becky enjoyed knitting hundreds of hats and mittens for children, keeping her beautiful flower gardens for everyone to enjoy, and she especially enjoyed family and family holidays.
When once asked what Becky held most dear outside her family, she replied her church and her belief in God. She was an active member of Waterbury Congregational Church since her baptism in 1924. Her activities included being a member of Circle Two, she sang in the choir from age 14 until she was 75 and served as the youth choir director for many years. Becky also served on many other church committees including chairperson of the Pastoral Relations Committee, the Church Historical Preservation and Church Renovation Committee and studied her faith through comprehensive Bible study classes.
Becky's life was rich in family love. She talked on the phone or in person to her family on a daily basis and kept them all informed as to the goings on in all of their lives. Her dignity in the face of adversity, resourcefulness, always positive attitude, gentleness and wonderful sense of humor will all be greatly missed and should be held as an example for all.
Becky is survived by her daughter, Callie McAllister of Waitsfield; her three sons, Harry L. Higgins and wife Marcia of Eustis, ME, Phil K. Higgins and wife Shaunee of Fairfield, and Legh Higgins and wife Jennifer of Lowell; her four grandchildren, Heidi Higgins Cutler, Christopher Higgins, Travis McAllister and Hillary Downing; eight great-grandchildren; and extended family. Becky was predeceased by her husband, Ray, in 1974 and by her sisters, Emily Adams and Pinky Batchelder; a brother, James Twombly; and her son, Rodrick W. (Roddy) Higgins.
A celebration of Becky's life will be held at Waterbury Congregational Church on Saturday, August 25, at 2 p.m. A reception will follow the service in the church dining room. In lieu of flowers the family would appreciate donations to Waterbury Congregational Church at 8 North Main Street, Waterbury, VT 05676. Assisting the family is Perkins-Parker Funeral Home and Cremation Service in Waterbury. To send online condolences visit www.perkinsparker.com.