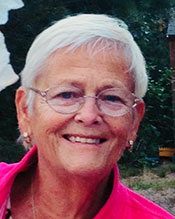 Judith Lynne Reiss, 79, passed away in the comfort of her home surrounded by her family on Thursday, August 2, 2018.
A Mass of Christian Burial will be celebrated from Our Lady of the Snows Catholic Church in Waitsfield on September 22 at 11 a.m. with a reception to follow at the barn at Lareau Farm at 12:30 p.m.
Assisting the family is Perkins-Parker Funeral Home and Cremation Service in Waterbury. Memorial contributions may be made to the Mad River Valley Ambulance Service, P.O. Box 305, Waitsfield, Vermont 05673. To send online condolences please visit www.perkinsparker.com.