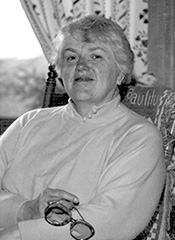 June Kenney of Richmond, Vermont, died September 11, 2018, at Burlington, Vermont. She was born June 15, 1933, in Beverly, Massachusetts, the daughter of Eugene E. and Hazel K. (Crombie) Davis. In 1942 she moved with her family to Maine living in Waldo County until 1949 when the family returned to Beverly. She attended Beverly Schools and in 1953 she married in Washington, DC, Donald S. Kenney of Beverly.
June returned to Beverly being joined by her husband upon his discharge from the U.S. Navy where they raised six children. She was active in her church both in Beverly and later in Vermont. In 1969 she formed Kenney Transportation Co. servicing special needs children. In 1980 the family moved to the Mad River Valley area in Vermont. Here she became involved in the activities of the local seniors being the prime mover in establishing Evergreen Place, a senior center and housing facility.
She became active in HIV-AIDS awareness programs speaking at schools and before the U.S. Congress pleading for funds for AIDS research and medications for those infected. In 1991, June was named Vermont Mother of the Year, in 1996 she was named "Person of the Year" by the Valley Rotary Club and in 2000, she was given the "Governor's Award" as the Outstanding Community Service Volunteer of the Year.
June's first interest was always her large family with whom she spent many summers camping, picnicking or just having fun. She enjoyed reading, knitting, making doll cloths, cookies and caring of her grandchildren. She was Nanny to many small children in the Mad River Valley and at Christmas time she joined her husband, Santa, as Mrs. Claus. She is survived by her husband of 65 years, sons Frederick S. Kenney and his wife Janet of Salisbury, Vermont; Robert E. Kenney and his wife Sharon of Richmond, Vermont, daughters Cheryl A. Bunten and husband Philip of New Gloucester, Maine; Elaine Kenney of Rowley, Massachusetts, Dyanne S. Demas and husband Anthony of Northfield, Vermont. Her daughter Jennifer L, Folsom, husband Douglas and daughter Angela predeceased her.
She is also survived by 12 grandchildren and 12 great-grandchildren and many nieces and nephews. A brother, Edwardm of New Jersey, predeceased her. There will be no funeral service but a committal service at 10 a.m., October 13 at the South Fayston Cemetery, Fayston, Vermont, followed by a gathering of friends and family at the Emma Ford Room at Warren United Church. In lieu of flowers, donations may be made to the Vermont Visiting Nurse Association, 1110 Prim Road, Colchester, VT 05446.