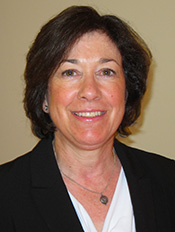 Mary Rae Holden, 64, passed away in the comfort of her home and family on Wednesday, September 19, 2018. Born at Heaton Hospital in Montpelier, VT, on April 21, 1954, she was the daughter of the late Dr. Raymond L. and JoAnn (Alleman) Dumas. Mary grew up in Waterbury, Vermont, and graduated from Harwood Union High School in 1972. Mary received her bachelor of science in human development and family living from the University of Vermont. After graduation, she became a swimwear buyer at Abrams and Strauss in NYC. Soon after in 1978, she fell in love and came back to Vermont to marry Robert John Holden, an accountant in Waitsfield, Vermont. At that time, she began her career as a home economics teacher at Harwood, retiring after over 37 years of service in 2016.
Mary was passionate about helping students and was a positive force for the school and her coworkers. She was always available to provide a helping hand, to share a kind word, or to simply listen. Countless stories of Mary's impact were shared in her final days by many Harwood students, alumni, teachers and staff.
At the end of her career, she became a Mary Kay consultant, a product that she attributes to her youthful glow.
Mary loved gardening and spent hours tending to plants and flowers. She enjoyed transforming the harvest into healthy meals for her family. She also had great talent with textiles, spending much time in her sewing room at home creating beautiful quilts, clothing and accessories for herself and others.
She developed a love for animals from her father, who was a veterinarian. Mary was especially fond of her cats, which she treated like additional children. She loved every one of them, especially her childhood cat "Beanie."
Mary is survived by her husband, Robert J. Holden of Moretown, Vermont; her sons, John Holden and his wife Laura Cunningham, Eli Holden and his wife Allyce Barron; her sisters Dorothy Brenner and her husband Louis, Susan Maxham and her husband Robert "Max", and Jan Shaw and her husband Peter; as well as many nieces and nephews.
A service to celebrate the life of Mary Holden will be held at the Wesley United Methodist Church in Waterbury on October 6, 2018, at 2 p.m. with a reception to follow. To make a contribution in memory of Mary, it would be appreciated if it were made to the Moretown United Methodist Church, P.O. Box 516, Moretown, Vermont, 05660.
Assisting the family is Perkins-Parker Funeral Home and Cremation Service in Waterbury. To send online condolences please visit www.perkinsparker.com.