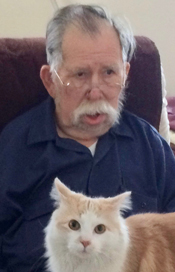 David W. "Dave" Dionne – 77, a lifelong resident of Waterbury, passed away at the University of Vermont Medical Center in Burlington on Wednesday, October 31, 2018. Dave was born in Rutland City on June 17, 1941. He was a 1960 graduate of Waterbury High School and enjoyed his time growing up on the farm.
On July 19, 1969, Dave married Sharon Cross. Dave was a longtime employee of Steele's Propane and Plumbing Company in Waterbury where he was a propane delivery driver and he continued with Green Mountain Propane after they purchased Steele's business. Following his retirement, Dave was a well-known newspaper deliveryman for the Times Argus and Burlington Free Press from 2003 – 2015. His memberships included the Waterbury Volunteer Fire Department, was a social member of the Waterbury American Legion and a member of the Waterbury Congregational Church. In his leisure time he enjoyed jigsaw puzzles and was an avid cribbage player.
Dave was predeceased by his wife Sharon (Cross) Dionne, his father Edward J. Dionne, his mother Mildred (Bowles) Sloan, his brothers, Edward and Eugene Dionne and a sister Sandra Lee Sloan. Dave was also predeceased by his longtime companion, Charlene Anair.
Dave is survived by 3 brothers, James Dionne (Carolyn), Dean Dixon (Annette), Gary Sloan (Linda), sister-in-law Ramona Dionne, many nieces, nephews, extended family, and long-time friends. He is also survived by his feline best friend, Butterscotch.
Friends may call at Perkins-Parker Funeral Home in Waterbury on Tuesday, November 6, 2018 from 6 – 8 p.m. A graveside service will be held from Hope Cemetery in Waterbury on Wednesday at 11 a.m. For those who wish, memorial gifts would be appreciated to Central Vermont Home Health and Hospice, 600 Granger Road, Barre VT 05641 (www.cvhhh.org) or the Shriners Hospitals for Children, 51 Bloom Street, Boston MA 02114. To send online condolences please visit www.perkinsparker.com or the funeral home Facebook page.