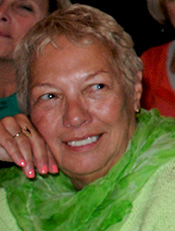 Maggie Underwood, 79, of Warren, VT, formerly of Middletown, NJ, died October 20, 2018, at home surrounded by loved ones. She was born in Jersey City and lived in Middletown for 42 years. Although she came to really enjoy Vermont, her heart never left New Jersey, her home state that she loved so much. She especially loved the beautiful beaches of the shore, going to New York City, and Frank Sinatra. She also remained a diehard Giants fan.
Maggie was a loving and dedicated wife, mother and grandmother, always putting the needs of her family ahead of her own. She touched everyone she met with her infectious smile, unending positive attitude and kindness to others. Whether it was paragliding in Vermont or dog sledding in Alaska, she was always up for a new adventure. Maggie loved to travel and took many trips abroad. She always wanted to experience and learn new things, even learning later in life how to play the piano and taking up golf. In her professional life, she was in the desktop publishing business for many years, before starting her own successful business, Underwood Graphics. No matter what challenges came her way during her life, Maggie was eternally optimistic, always choosing to look at the bright side of things. She saw the good in people even when others did not.
Surviving are her sister, Vickie Hurttlen and her husband Norman of Saugerties, NY; daughter, Peggy Delaney and her husband Peter of Warren, VT; sons, John T. of Tinton Falls and Rich Underwood of Jersey City, NJ; five grandchildren, John and Dolores Underwood and Connor, Maggie and Katie Delaney; and one great grandchild, John V. Underwood Jr.; as well as many nieces and nephews, especially Nicky Campisano and his wife Gerry of Sea Girt; and many dear friends, especially Callie and Vincent Roggio, Doreen Schumacher and Deirdre Fennelly. Maggie was preceded in death by her husband of 49 years, John Underwood; brother, William Jones; and parents, Thomas and Theresa Jones.
Visiting will be Friday, October 26, 2018, from 5 to 9 p.m. at John F. Pfleger Funeral Home, 115 Tindall Road, Middletown, NJ. A Funeral Mass will be held on Saturday, October 27, at 10 a.m. at St. James Catholic Church, 94 Broad Street, Red Bank, NJ. Burial will follow at Mt. Olivet Cemetery, Middletown.
For more information, to send condolences or for directions, please visit www.pflegerfh.com.