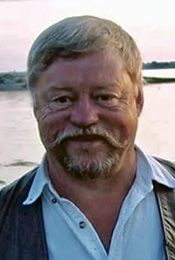 Bruce Dunbar, 66, passed away at his North Fayston home on Monday, October 29, 2018. Born in Burlington on July 17, 1952, he was the son of the late Gerald L. and Agnes I. (Hoffman) Dunbar. Bruce was previously married to Debra (Maynard) Dunbar for 32 years. He was predeceased by his loving companion of nine years, Madeleine "Lili" Howes, on July 30, 2012.
Bruce attended Harwood Union High School in Duxbury and as a young man worked several years for Albert LaVanway as a carpenter. He later was employed by Property Management. In the late 1980s he started his own business of trash removal, mowing, plowing and property management.
Bruce is fondly remembered as a wonderful husband, father and companion. He had a great sense of humor and was a big jokester who made everyone around him laugh. He lived his whole live in North Fayston "On the Hill." He was the new "Mayor of the Hill" after his father passed away. He was truly happiest at his camp. Bruce was a very giving person with a big heart. He had an unwavering love for his children, grandchildren and great-grandchildren. He was an avid hunter and fisherman.
Bruce is survived by his sons, Walter Dunbar and his companion Mary Warner of Roxbury and Jason Dunbar and his companion Cheryl Bernard of Waitsfield; two grandchildren, Alicia Nelson and her husband Adam of Alabama and Madison Dunbar of Waterbury; two great-grandchildren, Dalilah Grace Nelson and Ansley Mae Nelson; five sisters, Doris Audet of Northfield, Lorraine Barlow of Florida, Sheila Stoodley of Perkinsville, Jane Welcome of Colchester and Valerie Angolano of Shelburne; a brother, Bernard Dunbar of Sheffield; as well as nieces, nephews and extended family. Bruce was predeceased by two sisters, Janice Hanlon and Carol Purdy, and a brother, Cedric Dunbar.
A memorial reception to celebrate the life of Bruce Dunbar will be held at the Fayston Town Hall on Sunday, November 4, 2018, from 1 to 4 p.m. Private inurnment will take place in the North Fayston Cemetery. For those who wish, memorial gifts would be appreciated to the Mad River Valley Ambulance Service, P.O. Box 305, Waitsfield, VT 05673, or Central Vermont Home Health and Hospice, 600 Granger Road, Barre, VT 05641 (www.cvhhh.org). Assisting the family is Perkins-Parker Funeral Home and Cremation Service in Waterbury. To send online condolences visit www.perkinsparker.com.